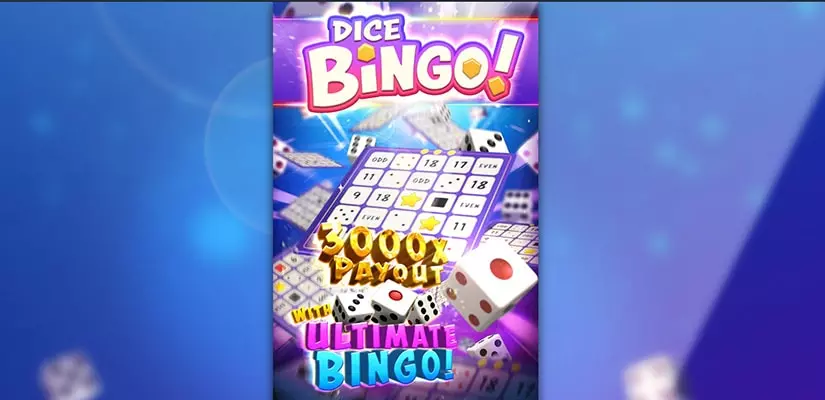 Those who are looking for something different can try playing Dice Bingo by Bunfox. This gaming option is a mixture of Sic Bo and classic bingo and it offers fans of both games a new way to enjoy their casino time.
Players can choose from several different denominations for the tickets and they can purchase a ticket for as little as 0.10$. The different thing about this bingo game is that instead of having a ball rolling out and determining the numbers you need to check, you will have a set of 3 dice rolling and completing winning lines.
Dice Bingo Summary
Provider
Bunfox
Winning Lines
12
RTP
95.25%; 97.13%
Min Bet
0.1
Max Bet
5
Special Symbol
Star symbols help you complete winning lines.
Special Features
Players can purchase an additional third dice roll.
Max Win
3,000x your bet
Rules of Dice Bingo
Although this is a slightly different variation of bingo, the game is extremely easy to play. Bunfox has made sure that players will be able to manage their bettings with ease and will be able to fully enjoy the game.
You can choose to purchase your ticket for as little as $0.10 and go up to $5 with your single ticket purchase. Of course, the more expensive your ticket is, the better the rewards when landing winning combinations will be.
You start by tapping on the "New Card" button which will show you the ticket you will be playing with. For every card, you will have 2 free dice rolls which may help you complete winning lines. In order to roll the dice, you simply tap on the button below the ticket. The more lines you manage to complete thanks to the two rolled dice, the better your payouts will be.
To complete near-miss lines, you will be granted the opportunity to purchase a third dice roll which may help you further boost your winnings. The price of the third dice roll will depend on how many lines you can possibly complete thanks to the third additional roll. If you are not willing to risk more money on the third dice, you can decline this offer and collect your current winnings.
Special Features of Dice Bingo
With Dice Bingo, you can expect to have a wonderful time as it has made the simple game of bingo a lot more exciting. The fact that you will have 2 dice rolls with the purchase of your ticket will give you enough opportunities to complete winning lines with your original bet.
What makes Dice Bingo even more exciting is the option that will allow you to purchase an additional third dice roll. Thanks to this option, you increase your chances of completing even more lines and hopefully enjoy the biggest payouts of 3,000x your bet.
While having dice rolls determining the positions you can mark on your ticket might seem confusing at first, the game is pretty easy to understand. The creators of Dice Bingo have made sure that players will not have to worry about following the outcomes of the rolls as the game automatically marks all of the matching positions. What is more, with every roll of dice, you will see what type of position can be marked on your ticket.
Every roll of dice consists of 3 dice with the values from 1 to 6 appearing in either red or black. On your ticket, you will have the opportunity to mark positions that represent small or big numbers, red or black, as well as, odd and even. In addition to that, you can mark the value one of the dice has rolled out or the total amount of the three dice that come with every roll. On your ticket, you will see combinations of all of these possibilities.
You will also notice star symbols on your ticket which can be placed randomly on one or more positions. These symbols are automatically marked on the first dice roll, helping you complete winning lines much easier. To make the game even more rewarding, Dice Bingo also offers a few special payouts that are awarded when you have a 3-of-a-kind combination or when you have no match on your ticket after the two dice rolls.
Our Verdict
Bunfox offers players a fun combination between Sic Bo and traditional bingo, making even the look of your tickets more fun. Instead of bingo balls, you have two dice rolls that will roll out the positions you can mark. On top of that, you have the opportunity to purchase an additional third roll and hopefully enjoy the biggest possible payout of 3,000x your original bet.