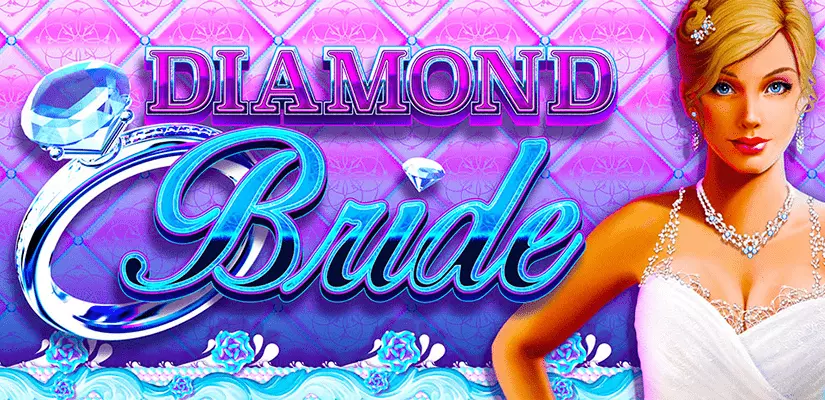 Crazy Tooth Studio is the developer that worked on Diamond Bride – a slot game that is included in Microgaming's portfolio. With such a name, we could expect nothing else but a wedding-themed slot. It is interesting to mention that slot enthusiasts can find this game in land-based casinos and it bears the International Gaming Technology (IGT) trademark – a company specialized in developing and manufacturing slot machines.
Diamond Bride piques the interest of reel spinners thanks to its unique and colorful grid. The color palette of the game is dominated by white, pink, light blue, and yellow, making it one of the most eye-pleasing slots you will come across. To top up players' experience, this slot offers interesting bonus features and symbols that come with tasty cash prizes.
Diamond Bride Slot Summary
Provider
Crazy Tooth Studio
Paylines
4
RTP
N/A
Minimum Bet
N/A
Maximum Bet
N/A
Wild Symbol
Yes, it appears on reels 1, 2, and 3 only.
Scatter Symbol
Yes, it triggers the bonus round and can appear only on reels 1, 2, and 3.
Bonus Features
Wedding Cake bonus feature, multipliers
Jackpot
N/A
Symbols and Winning Combinations of Diamond Bride Slot
We must admit that Crazy Tooth Studio presents slots with nice animations, and Diamond Bride makes no exception to this rule. What is more, the video slot comes with top-quality graphics and cheerful sound effects. Apart from this, the game developer included some interesting symbols that perfectly correspond to the theme of the slot.
A wedding without diamonds, flowers, and a cake is incomplete. For that purpose, Crazy Tooth Studio involved these elements in the symbols you will come across. Once the main game starts, you will notice that there are wedding rings placed above each payline. These rings stand for a certain credit value that ranges from 25 up to 500. It is important to explain that some values may not be available for all wedding rings and several rings may have the same value.
Once you start spinning the reels, you will notice that only reels 1 and 2 are active. Reel 3 activates after reel 2 stops and the same symbol or its substitute appears on the same payline featured by the first three reels. Reel 4 is activated in the same way as reel 3. In fact, it resembles the domino effect. Please note that the Wedding Cake bonus symbol does not trigger reel 4 even if it appears on the same payline on reels 1, 2, and 3.
In case you are wondering in which cases you win, the answer is quite simple – once reel 4 stops and the same symbol or its substitute appears on the same payline on 2 or more adjacent reels starting from the leftmost reel, you take the credit value associated with the wedding ring above the winning payline. It is worth noting that the flower symbols appear only on reels 1, 2, and 3.
Bonus Features of Diamond Bride Slot
As for the wild symbol, it substitutes all flower symbols and it appears only on reels 1, 2, and 3. The multiplier wild symbol will multiply your winnings up to 10x. To the delight of reel spinners, more than one multiplier may appear to further boost your profits. The following multipliers appear only on reel 4: 3x, 4x, 5x, 7x, and 10x.
The Wedding Cake bonus features 4 layers. Assuming that you see a symbol Move In, you can advance to the next cake layer and select more flowers. If the Extra Picks symbol appears on the reels, you need to move back one cake layer and select flowers. Collect All Credits symbol allows slot enthusiasts to rake the credit value associated with the unselected flowers from the cake layer they are currently playing.
The flowers from the first cake layer come with awards from 40 to 400 credits times the bet multiplier from the awarding game. As for the flowers from the other three cake layers, these come with various awards that reach up to 400 credits or some special symbols which we discussed above.
Verdict
Diamond Bride is an action-packed slot game that will certainly please the interest of players thanks to its bright colors and interesting bonus feature. This video slot is created with attention to every detail and every element just fits the theme of the game. This slot is fast-paced and simple, but it will provide you with some fun-filled time.