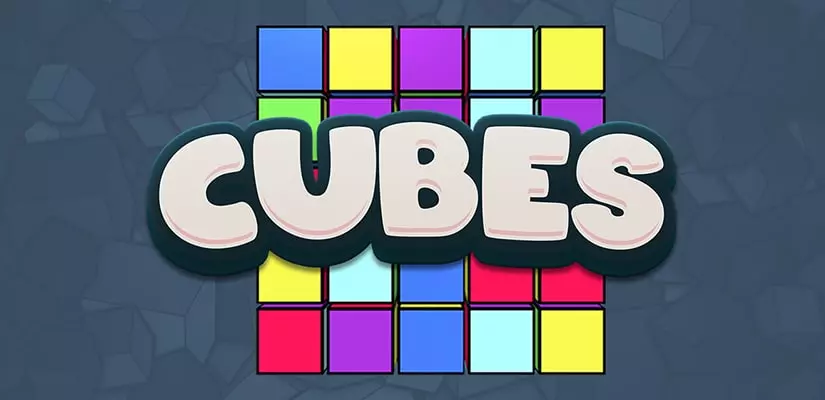 Cubes are rarely the focal point of modern slots but Hacksaw Gaming had different ideas. This software provider created a game solely based around colorful blocks in an industry where every title has a more intricate theme than the previous. The minimalist aesthetic of Cubes makes it interesting and deceitfully, sets expectations low. In reality, Cubes is an intricate and engaging video slot though it does not appear so at first.
Cubes utilizes the Cluster Pays system, which is not particularly widespread in the slots genre. Moreover, it has a good RTP percentage of 96.35% and also features wide betting limits, ranging between €0.20 and €100 per spin. In the review below, we will go into detail regarding Cubes and see just what makes this game so compelling and engaging.
Cubes Slot Summary
Software Provider
Hacksaw Gaming
Payline Number
Cluster Pays
RTP
96.35%
Minimum Bet
€0.20
Maximum Bet
€100
Wild Symbol
No
Scatter Symbol
No
Bonus Features
Free Spins, Multipliers, Sticky Symbols, Sticky Reels,
Jackpot
N/A
Symbols and Winning Combinations of Cubes Slot
The symbols in Cubes are represented by six colored cubes and you use them to form winning combinations. What's interesting about this game is that all symbols have the same payout ratios. Therefore, it does not matter what cubes you used to score a win, rather how many of that type are involved.
The minimum eligible combination is that of five cubes that are directly connected to each other. As long the chain remains whole, you will score a win. For the minimum of five cubes, the game will pay a modest x0.10 of the total bet. Keep in mind that you can score multiple wins at the same time.
Naturally, the rewards become better as you add more cubes to the mix. The first combination that will provide you with a profit by itself includes 8 cubes. Specifically, you will gain x1.5 the bet amount for this pattern. However, if you hit 9 cubes, you will receive x3 the total bet.
The next major benchmark is for 12-14 cubes and if you are lucky enough to spin this many of them, Cubes will reward you with x9 the bet value. If you go even higher and spin 15-19 cubes of the same color, you will be eligible for a x24 prize.
The second-to-last combination will have you spin 20-24 cubes and it will pay x32. But if you manage to spin 25 or more, you gain the maximum payout of x40. From this point on, the game will not increase its rewards and it will continue to pay the maximum.
The core gameplay loop is rather simple, though there are some intricate elements, which we will discuss later on. Aside from the six base cubes, the game does not include any other symbols, such as Scatter or Wild symbols.
Bonus Features of Cubes Slot
Cubes might be simple in its concept but the actual experience is certainly memorable. This is due to the extra bonus features that come with this game. They will leave their mark and your time with the game worthwhile.
First and foremost, we need to cover the expanding reels feature. When you first place a bet, the game will only feature a 5×5 grid. However, if you hit a winning combination, Cubes will add 2 more rows and columns, forming a 7×7 grid. This will trigger a respin and you will receive the benefit of any new combinations that form. This process will repeat, with the grid expanding to 9×9 and up to 11×11. Of course, for the grid to reach its maximum size, you will need to score a win on each respin. If you do not get anything on any particular respin, the game will reset back to its default 5×5 grid.
After that, we have the multiplier feature. Dead center in the grid, the game will feature a multiplier symbol, designated by an 'X'. If that cube is part of a winning combination, it will add a multiplier onto your winnings for every cube involved. As per the rules of the game, the minimum multiplier is x5 and the maximum is x22.
Of course, it is improper for a slots game in today's market not to have a free spins feature. Luckily, the developer had the same idea and included it in Cubes. The way to trigger free spins is to hit 5 clusters of different colors. When this happens, the game will reward you with 10 free spins played at the current bet level. What's more, during the free spins round, the game will choose a color and make it sticky for the duration of the round. Moreover, the grid will also remain sticky and will not shrink after a dead spin.
Interestingly enough, if you hit a cluster of 70 cubes, unlikely as that may be, the game has something special in store for you. Specifically, a massive payout of x2,500 the bet level. This reward is added alongside everything else you have won prior to this.
Our Verdict
Cubes is certainly refreshing both from an aesthetic perspective and a gameplay one, as well. At its core, Cubes is simplistic enough to be understood by everyone but also features enough complexity to satisfy even the most hardened slot players. What's more, the more you win, the higher your odds of winning again become. The whole game is a landslide of wins and you only need a little push to get started.