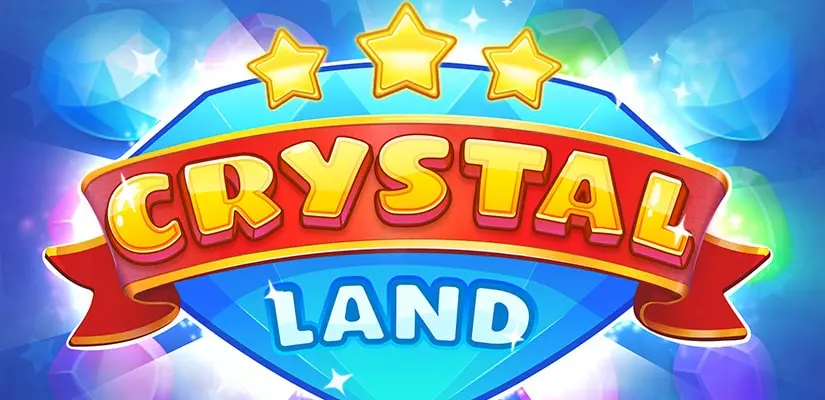 Crystal Land is an interesting video slot developed by Playson and found at a variety of online casinos. It features a bright color palette and a beautiful graphic style. This makes Crystal Land a joy to look at and playing it even more so. As soon as you open the game, you will notice that the game does not use a traditional setup. Rather than a standard five-reel grid, Crystal Land includes a 7×7 field and the Cluster Pays system, in place of traditional paylines. In this review, we will discuss all the major features of Crystal Land and provide our honest verdict after we cover all bases.
Crystal Land Slot Summary
Software Provider
Playson
Payline Number
Cluster Pays
RTP
95.20%
Minimum Bet
$0.20
Maximum Bet
$100
Wild Symbol
Yes
Scatter Symbol
No
Bonus Features
Cluster Pays, Cascade Feature, Multipliers, Symbol Transformation, Symbol Explosion, Collection System
Jackpot
N/A
Symbols and Winning Combinations of Crystal Land Slot
Crystal Land works as in most other games of this variety. Winning combinations are formed whenever you spin a Cluster of the symbol. A Cluster is made up of at least five of the same symbol all connected to each other. There can be multiple Clusters in a single spin, each independent from the rest. In such cases, each Cluster pays by itself.
There are multiple symbols to take into consideration when playing Crystal Land and each will be of some benefit for you. The Blue Crystal is the first symbol type that you will encounter in this game. To break even with it, you need a Cluster of 7. For a combination of 8, you will receive x2.5, while nine or more symbols will pay x5.
The Green Crystal is next in line and it offers rewards similar to the crystal above. A Cluster of 7 will pay x1.2, while a combination of 8 and 9, will net you x3 and x6, respectively. The Yellow Crystal comes in third place and with it even better payouts. Specifically, when you spin a Cluster of 7, you stand to win x1.4 the original bet. With more symbols added to the Cluster, the payouts become even better. A x8 combination pays x3.5, whereas 9 symbols in the Cluster will pay x7.
The Purple Crystal will no doubt pose an interest to you when you see it. This symbol comes with a worthwhile payout of x1.6 for a x7 Cluster. When you spin 8- and 9-symbol Clusters, you will win x4 and x8, respectively. Second-to-last from the basic symbols is the Orange Crystal and it will pay x4.5 and x9, when you spin a Cluster of 8 and 9, respectively.
The Diamond is the last basic symbol found in Crystal Land and it comes with the best payout ratios in the game. Namely, when you spin a Cluster of six, this symbol pays even money. Spinning 7 Diamonds grants you x2, while a Cluster of eight pays x5. A combination of nine or more will provide you with a payout of x10.
You should also not forget about the Wild symbol. Unlike the previous ones, the Wild does not pay anything but it will substitute for other symbols when forming Clusters. There are two types of Wild – the Standard Wild and the Ruby Wild. Ruby Wilds function the same as Standard Wilds, however, if they fail to become part of a winning combination, they turn into Bomb symbols. Bomb symbols explode either vertically or horizontally, making room for new symbols to drop.
Bonus Features of Crystal Land Slot
Naturally, we also have to cover the special features of this game and there are plenty to be found. Since Crystal Land utilizes the Cluster Pays system, it also comes with the Cascading symbols feature, as well. Basically, whenever you score a winning Cluster, the symbols in it will disappear and new ones will fall from the top. This process continues until no new Clusters are formed.
Also worth pointing out is that several areas of the grid are locked and you cannot form wins on them until they are unblocked. With every cascade part of the field becomes clear and new positions open up. Not only that but as new positions become unlocked new symbols features become available, as well.
After the second cascade, random Wild symbols will be added to the field. With the fourth Cascade, Ruby Wilds can also appear. When you complete six cascades, you will trigger a special bonus feature.
Basically, the game will calculate how much you have won from the previous six cascades and display the amount. After that, chests will be placed at random behind the grid and the game will add Coloring potions to the reels. These potions change the type of certain gems, allowing for faster clears. After three potions have been added and depending on how many chests you have revealed, the game will open all available chests. These chests contain multipliers, which will then be applied to the amount displayed above the grid. The multipliers can go up to x9, which will no doubt lead to massive wins.
Then we also have the Collect feature to consider. When you form winning Clusters, the game will add cash to the progress bar on the top-left corner. During this process, the game will grant you either Standard Wilds, Ruby Wilds, or Coloring Potions, depending on what level you have reached. When you fill the progress bar and are ready to advance to the next level, the game brings up Wheel round. There are three options on the wheel – either collect your money, double your money, or save the gathered sum for the next level. The outcome is random but always beneficial.
Our Verdict
All in all, Crystal Land has much to offer you in the way of fun and entertainment. The game is packed with bonus features and the base gameplay is not too bad either. With colorful graphics and smooth animations, Crystal Land is a joy to look at. With all of this in mind, we cannot help but recommend this game to all fans of the Cluster Pays sub-genre.