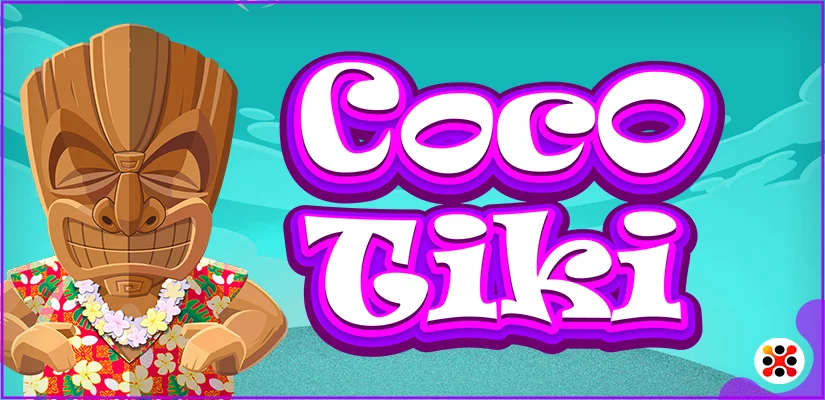 Coco Tiki is among Mancala Gaming's most unique titles, both in terms of its gameplay and its visual design. First things first, the game's appearance deviates from the developer's other titles and instead opts for a cel-shaded, cartoony look. Many of the illustrations are also stylized to look like paper cutouts, which all in all serves to give the slot a bright and cheerful atmosphere that is perfect for its summer setting.
The gameplay also differs from what we are used to seeing not just from Mancala Gaming's works, but from other slots titles in general, especially when it comes to its bonuses.
Coco Tiki Slot Summary
Provider
Mancala Gaming
Paylines
5
RTP
95%
Min Bet
5 credits
Max Bet
450 credits
Wild Symbol
X symbol
Scatter symbols
Message in a bottle which triggers wild symbols
Bonus Features
Bonus mode with free spins and wilds, Coco Tiki bonus game
Jackpot
270 x Bet
Symbols and winning combinations of Coco Tiki
Coco Tiki is structured in a peculiar way. Upon opening the game, you are greeted with a beach landscape and a 3×3 layout. The game pays out for 3 of a kind symbol combinations, and it uses a unique wave splashing animation that washes away your symbols in lieu of traditional spinning reels.
As for the symbols in question, they consist of adorable sea creatures which are all very bright and colorful. The symbol which pays out the least is the pufferfish, and 3 matches of this little guy will award you with 0.6x your stake. Next, we have the turtles, and wins achieved with them will net you 1.6 times your wager. Jellyfish wins will double your stake, while purple fishes net your wager x3. Starfish grant the second-most lucrative rewards by awarding the player with their stake times 8, and red crabs are the most generous. If you get 3 matches of this red creature you will be awarded your stake x20.
Message-in-bottle symbols are your ticket to Coco Tiki's first bonus mode, and they open up to give you a piece of paper marked with a big X. This new symbol is the game's wild, and it can only show up in this bonus round. Another symbol that is also bonus mode exclusive is the 0. These symbols stay on the layout for the remainder of the round, and they are more or less the opposite of wilds. In other words, they will not net any wins.
Bonus features of Coco Tiki
As previously mentioned, Coco Tiki is fairly unique and might surprise even experienced punters, and a lot of this comes down to the way its bonuses work.
The first such feature is its Coco Tiki Bonus Round, which is triggered when a bottle washes up on your screen. During this bonus mode, all of the spins are free. Additionally, the bottle will open and reveal its message which is how you will receive the wild symbols, X, or the special 0 symbols. Wilds act as substitutes for all of your other symbols, while 0 symbols prevent winning combinations from occurring on their respective paylines. The latter also does not leave the layout until the bonus round has ended.
Furthermore, a combination of 3 X's achieved during the bonus round will award you by filling one of the tropical drinks on the left. Landing 3 O's, on the other hand, ends the bonus round. Any wins you had achieved until that point will be paid out.
The aforementioned tropical drinks tie into another one of Coco Tiki's bonus mechanics. When the bar is filled up and all drinks have umbrellas in them, you will be taken to the Tiki Bar Bonus Game. During this mode, you are tasked with finding a pearl. There are three coconut shells each of which could be covering the pearl, and you must choose the one you think is hiding it. You can win between 5 and 25 free spins from this mode depending on the round, and round three is not only the most generous in terms of free pulls, but it also grants a 2x multiplier. Free spins cannot trigger the Coco Tiki Bonus Round and will thus not include any wilds.
It is important to consider, however, that failing to find the pearl will not reward any free spins, and it will take away all free spins you had saved up. This is why it might be better to tread carefully and decide if the possibility of gaining even more free spins is worth risking the ones you already have.
Our Verdict
Coco Tiki is a refreshing experience that will reward any person who plays it with a very welcome taste of the summer, even if you are giving it a try during the winter months. Furthermore, its unique animations and innovative features are a welcome novelty that makes gameplay all the more exciting.