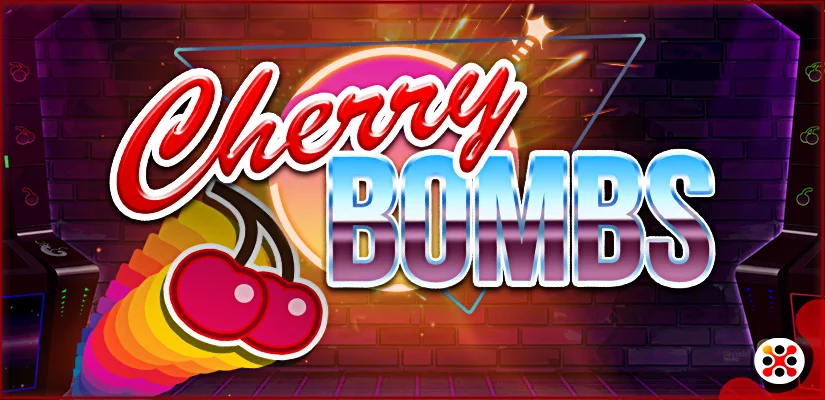 Cherry Bombs is a multi-level slot game developed by the MancalaGaming company. Here winnings come from a cocktail of aromatic fruits – watermelons, oranges, grapes, blueberries, plums, and lemons. There are no wild and scatter symbols the way you know them, but if you are lucky to land on the special cherries and matchsticks, your chances significantly increase.
The layout is typical of classic fruit slots – cartoonish fruits in bright colors, energetic music, and sounds reminiscent of a real slot machine game.
The Cherry Bombs online slot machine comes with 25 paylines and a theoretical return to player rate of 95%. Players can enjoy free spins and cluster wins, and the maximum profit they can reach is 3,000x the original bet.
Cherry Bombs Slot Summary
Provider
Mancala Gaming
Payline number
25
RTP
95%
Minimum Bet
25 credits
Maximum Bet
2,250 credits
Wild Symbols
N/A
Scatter Symbols
Cherries, Matchsticks
Bonus Features
Frees spins, Cluster wins
Jackpot
3,000 x your bet
Symbols and Winning Combinations in Cherry Bombs
Six regular symbols are payable in the base game. You would probably wonder what might be interesting in a slot where fruits just roll over and over again. Well, this is definitely not the case with Cherry Bombs and we will explain in detail why.
The slot is divided into 3 separate levels, each one being passed after reaching a certain energy level, reflected in the Level-Up Meter. Each of the levels has its own paytable, so it is not the same if you land on a 4-fold lemons combination while being on Level 1 and Level 3 for example.
One of the indicators that distinguishes the 3 levels of the Cherry Bombs slot is the number of possible identical symbols combinations. Level 1 pays for 3, 4, and 5 matching symbols in both directions, as wins are landed on a standard 5-line slot grid, with 25 paylines. The grid in Level 2 is bigger (4×6) and winnings are paid for clusters of identical symbols, so the number of identical fruits within one combination goes up to 24, which logically leads to higher winnings. The most lucrative is Level 3, which pays for cluster combinations of between 4 and 13 identical symbols, plus the additional opportunity to hit 35 identical fruits.
The full paytable is available to all players through the info section of the slot, but we will tell you how the payouts for the most profitable fruit (watermelon) evolve to get an idea of what to expect from Cherry Bombs.
When on Level 1, the maximum number of watermelons you can hit is 5 and for that, you can enjoy a payout of 1,000x your bet. When the Level-Up Meter brings you to Level 2 and you manage to land on the maximum possible 24 watermelons, your bet will be multiplied x2,500. If you are already at Level 3, luck is still on your side and you manage to hit the massive number of 35 watermelons, the game will multiply your bet 300 times.
The special symbol in this slot, from which its name originates, is the Cherry Bomb that comes in a single, double, or triple format. It appears on different reels depending on your current level and eliminates different quantities of non-winning symbols. The other special symbols are the Matchsticks (single & double) which act as triggers to the explosions of Cherry Bombs. They can also explode when located in the blast zone of another exploding Cherry symbol.
Bonus Features of Cherry Bombs
Like the other aspects of the slot, the bonus features are distributed among the different levels. "2nd Chance" spin for example is applicable only within the Level 1 gameplay. In principle, if a single matchstick does not point towards the fuse of the adjacent Cherry bomb, it won't explode. Thanks to the bonus feature however, the matchstick spins, giving you a 1:4 chance for an explosion. Level 1 has one more bonus feature – the cascading symbols. When a bomb explodes and eliminates some fruits, the ones located above replace them, thus creating a possibility of an additional winning.
Explosions not only destroy regular symbols and create the potential for more winnings, but they also add energy to the Level-Up meter. When players reach a sufficient amount of energy, they receive 5 free spins to pass from Level 1 to Level 2 and 10 free spins to move up from Level 2 to Level 3. If after you use all the available free spins, there are not enough bomb explosions to maintain the energy level, you drop down to the previous one.
The so-called Cluster Wins are available for Levels 2 and 3 only. A winning cluster is a vertical or horizontal combination of at least four identical fruits. If after a Cherry Bomb explosion two or more clusters are replaced by the same symbol (randomly chosen), they are considered one large cluster. If the replacement is by a different-symbol cluster, the fruit of the higher value will land on the reel.
In addition to the special features already mentioned, this slot also provides its players with the Autoplay function. Steps are simple – place your bet, set if you want 5, 10, 25, 50, 75, or 100 rounds, and press Start Autoplay. You can pre-set a loss limit and reaching it will automatically end the autoplay. This slot mode will also be terminated if the maximum amount specified for one spin is won or exceeded.
Verdict
If you like the classic fruit slots, try this MancalaGaming offer, you won't be disappointed. Wilds and scatters are not available, but there is an abundance of bonus features that will raise your adrenaline and give you a chance for tempting winnings. Cherry Bombs can be explored in the English, Russian, Spanish, Portuguese, Swedish, Chinese, Italian, and Finnish languages.