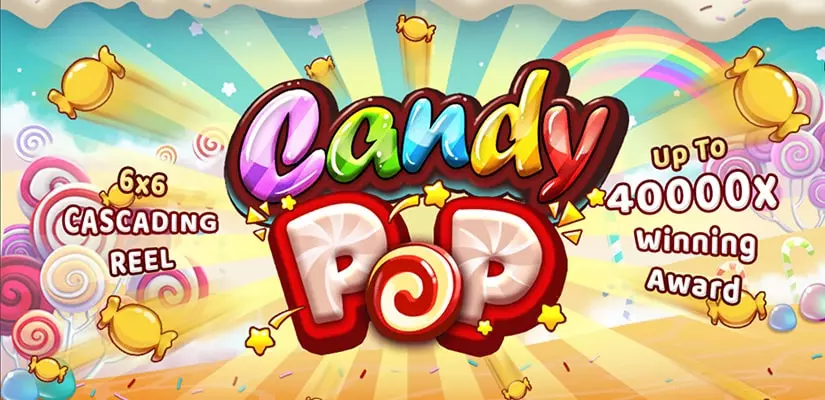 Candy Pop is yet another video slot from Spadegaming. As its name implies, this game is all about candy and how wonderful it is. It gets even better when you factor gaming wins into the mix. This is what Candy Pop offers you and as soon as you open the game, you will know if you are in the right place or not. Granted, the visuals are not for everyone and some players might be put off by them.
In terms of gameplay, Candy Pop utilizes a 6×6 grid and does away with old-school paylines. However, it does allow players from every budget to participate in the fun, thanks to the wide betting limits. In the review below, we will go in-depth about Candy Pop and all the amazing features found in this game.
Candy Pop Slot Summary
Software Provider
Spadegaming
Payline Number
Cluster Pays
RTP
97%
Minimum Bet
$0.60
Maximum Bet
$300
Wild Symbol
No
Scatter Symbol
No
Bonus Features
Multipliers, Different Stages, Multiple Bonus Rounds
Jackpot
N/A
Symbols and Winning Combinations of Candy Pop Slot
As far as slot games go, Candy Pop does not include too many symbols. In fact, there is only a handful of them. This is somewhat unusual for modern slot games, which comes with a dozen or more symbols. Candy Pop, instead, only utilizes five different ones and all of them are basic. The symbols in Candy Pop take the form of some type of candy, to stay in line with the theme.
Before we get into the symbols, we first have to take into account how you form winning combinations with them. As we have mentioned above, Candy Pop does not use a traditional payline system or an X-ways-to-win setup. Instead, it features the Cluster Pays model, where you can score wins regardless of the positions of the symbols. To hit a combination, you would need to position 3 or more symbols of the same type next to each other, either vertically or horizontally.
There is a clear hierarchy between the symbols, based on the payouts they offer. Each symbol has a different shape and color, making it easy to distinguish from the others.
The Red Candy is the least paying symbol, offering 20 coins for a x6 line. After that comes the Orange Candy with a reward of 30 coins for a full combination. The Green Candy is middle-of-the-road in terms of payout, giving you the chance to win 50 coins when you line up 6. Second-to-last, you find the Blue Circle Candy and its payout of 100 coins. Most rewarding is the Blue Star Candy, which will pay 200 coins for a sequence of six.
Bonus Features of Candy Pop Slot
There is more to this game than simply forming combinations, however. The special features of Candy Pop add flavor to the gameplay. The most noticeable is the Cascading Symbols and it is active during the base game. Whenever you form a winning combination, the participating symbols will disappear and any above them will fall down. After this, new symbols will be dropped down from the top to fill the empty positions. If new combinations are formed, the whole thing repeats until no new wins are scored.
Aside from this, we also have to take into account the special bonus rounds. There are two of these and they are both level-specific. During the base game, you will form winning combinations. When this happens, the game will mark the positions involved. After 3 wins are formed on a single position it will receive a gold border. You need to acquire six of these to trigger the bonus round.
When you do this during Level 2, the lock borders will turn into coins and initiate the Candy Machine Bonus Game. Effectively, the game will allow you to get candy from a machine and each type of candy comes with a multiplier. There are three types of candy that you can get with multipliers ranging between x0.5 and x5, x10 and x30, or x50 – x100. The candy you get is completely random.
The other bonus round is available on Level 3 and triggered under the same conditions. When you begin the round, the reels will be cleared and several lollipops will be added to them. The lollipops will stay in place for the duration of the round. Much like the other bonus rounds, there are three types of lollipops, with the same multipliers. You will have 3 spins to get more lollipops and when you do score a lollipop, the number of spins will reset back to 3. The bonus feature is concluded when no more symbols drop or the whole grid is filled with them.
You may have noticed that we have talked about Levels before. This is because Candy Pop features three different stages, each with its own distinct bonus round. The bonus rounds have a major impact on your win potential and it is in your best interest to take advantage of them and move on to the next one when available. Doing so is not particularly difficult and all you have to do is score large enough wins. When you start on Level 1, you will need to score 50 wins of any kind to enter Level 2. From Level 2, you would have to hit five-time cascades to gain entry to Level 3. There is a progress bar on the left which signifies how far away from the next Level you are. You can always go back to a lower Level if you wish.
Our Verdict
It is clear that Candy Pop is not for everyone. The game is too different both aesthetically and in terms of gameplay from most other titles in the slots genre. For those who like this style of slots play, we are sure that Candy Pop will hit the right notes. However, those who prefer a more traditional slots experience are better off looking at different games.