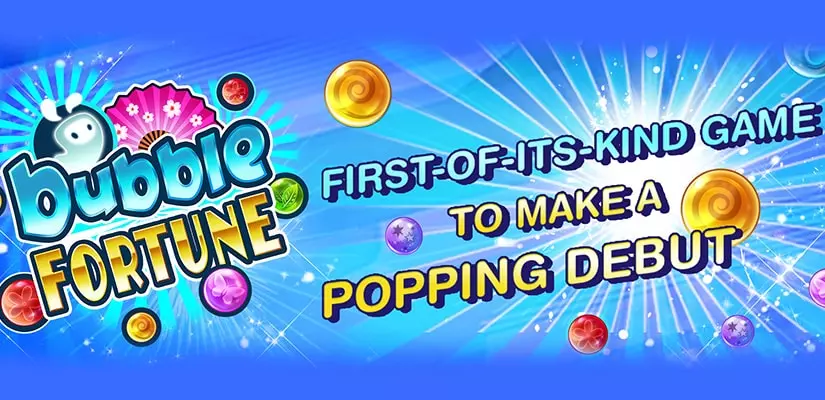 For those who are on the lookout for a different type of gaming experience, Bunfox has provided several fun and unique games, one of which is Bubble Fortune. You will have the chance to take a walk among Cherry Blossom Gardens, Bamboo Grove and many other picturesque locations and aim for the most rewarding combinations while you shoot colorful bubbles.
The more bubbles you pop, the better the payouts you will enjoy will be. As you complete the levels of the game, you have the chance to revel in more rewarding betting adventures that are also extremely fun. Each level suits the gaming style of different players and you can pick from fast and simple gameplay or more advanced and intricate bubble popping.
Bubble Fortune Summary
Provider
Bunfox
RTP
97.00%
Min Bet
1
Max Bet
10000
Special Symbol
The Void Bomb can destroy bubbles around it, no matter their colors.
Special Features
The Magic Rune below the bubble can award Void Bombs once it is completely charged.
Jackpot
N/A
Symbols and Winning Combinations of Bubble Fortune
As you pop bubbles in this fun game, you will reveal different types of payout symbols. The higher the number of the bubbles you pop is, the higher the tier of the paying symbols will be. There are three tiers of paying symbols in Bubble Fortune and they include Bronze, Silver and Gold. Within each tier, the paying symbol that will appear is randomly chosen.
The Bronze Tier will award a paying symbol after you have popped between 3 and 5 bubbles. If you see a symbol of a bronze leaf, it will award 0.1x your bet. The other bronze symbols include an acorn that pays 0.2x, a moon with a star that pays 0.5x, a flower with a 1x payout, a butterfly that pays 2x, a mushroom which awards 20x your bet. The highest-paying bronze symbol is a star that pays 100x.
The Silver Tier symbols are unlocked when you pop 6 to 10 bubbles. They include a leaf that pays 0.1x, an acorn with a 0.2x payout, a moon with a star that pays 0.5x, a flower that pays 1x, a butterfly with a 5x payout, a mushroom which will award 25x your bet and the star will pay 150x your wager.
The highest-paying symbols are the ones from the Gold Tier and it is unlocked when you pop more than 11 bubbles. You will yet again have a leaf, acorn, moon with a star, flower and butterfly that award the same payouts as their bronze and silver counterparts. The mushroom, however, will pay 30x while the golden star will award 200x your bet.
Bonus Features of Bubble Fortune
Bubble Fortune is a game that will allow you to advance to different levels, each of which has a specific type of charm that will suit the gaming style of various players. You will have a certain set time within which you will need to complete a level in order to advance to the next one. Your wagers are made whenever you shoot a bubble and you can adjust the size of your bet before you launch a bubble.
As you will always see two different bubbles that are ready to be launched, you can easily switch between the two. You can simply tap on the glowing circle in the middle of the playscreen and this will allow you to toggle between the two available bubbles.
While most bubbles in the game are regular and can only pop when you match 3 or more bubbles of the same color, there are also the Void Bombs. They can pop any bubble that is near them and it does not matter what color the surrounding bubbles are.
Some levels will also have Rock Nemesis which cannot be popped in a regular way but you need to either drop them by matching bubbles above them or blast them with a Void Bomb. In order to launch a Void Bomb, you will need to fill up the Magic Rune beneath the bubbles. It is charged thanks to the bubbles that are popped, as well as, those that are dropped without being popped.
Our Verdict
Bubble Fortune is an extremely fun way to bet money and hopefully collect good payouts. You can advance to more intricate levels, pop different bubbles and be rewarded for the combinations that you are making. This is a game with a low to medium volatility which means that you can enjoy decent rewards pretty regularly. If you decide to give Bubble Fortune, you can definitely experience a different but very exciting gaming adventure.