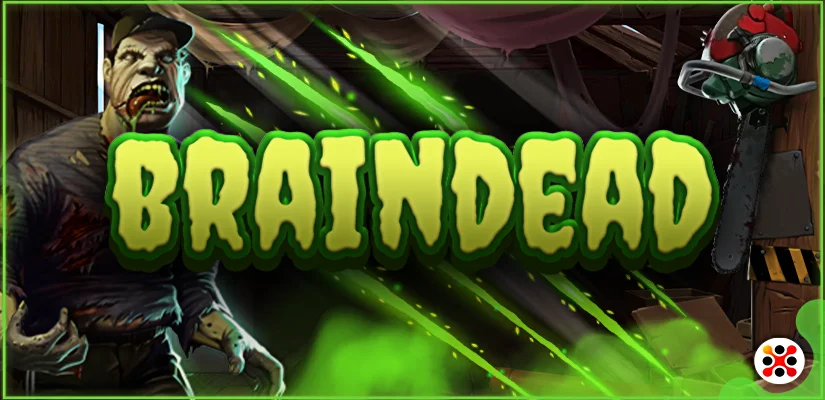 Launched in October 2021, Mancala Gaming's newest title throws you into a world overrun by zombies and disease, and it is up to you and your fellow allies to save everyone and earn some rewards along the way. This 5×5 reel title features gorgeous artwork, the quality of which gambling enthusiasts have come to expect from this developer. Coupled with the music that fits the chilling atmosphere of the game, we end up with an exciting title that will appeal to both zombie fans and general audiences alike.
There are 25 paylines, and the gaming sessions progress in a familiar manner to those who enjoy playing video slots. It is nonetheless very engaging and the bonus mode provides a fun change-of-pace.
Braindead Slot Summary
Provider
Mancala Gaming
Paylines
25
RTP
95%
Min Bet
25
Max Bet
2,250
Wild Symbol
Tombstone
Scatter symbol
Arrow down which grants an extended spin. Dice which unlocks the bonus game mode.
Bonus Features
Roll the dice and win extra spins, money, or the opportunity to double or quadruple your winnings. Progress bar – losses grant you free spins.
Jackpot
10500x Bet
Symbols and winning combinations of Braindead
Upon opening up the game, you will be met with a dilapidated room that serves as your hideout. The slot interface of the game is situated in the middle, and the layout and Braindead's gameplay are generally pretty straightforward. What is more, the UI will make punters who also enjoy action combat games on mobile feel right at home thanks to the way the buttons are arranged. Winnings occur when you get either 3, 4, or 5 of the same symbol, with each copy in its respective reel.
Speaking of symbols, we can happily note that all of them are indeed reimagined to fit perfectly within this zombie-infested setting. They are just the right amount of frightening while still sporting that Mancala charm and polish.
As for their value, the max value of all card symbols but the hearts is 4x your stake, while hearts offer a bit more by winning 4.8 times what you wagered. Next, we have the very friendly-looking zombie dog, the blond masked fellow, and the undead man who wears a cap. All of these symbols offer mid-tier payouts, with the zombie man being the most generous of the bunch by awarding 10x your stake if he shows up 5 times.
As for the most profitable symbols, in second place we have the maid, and 5 copies of her will net you your stake x14. If you see 5 copies of the commander, then you will know you have won the highest reward symbols have to offer as she will grant you your stake x16.
We are moving on to the more interesting symbols, the first of which is the wild. You will know you have gotten a wild symbol when a grave and the hand of its restless occupant appear on the screen. The wild can substitute for other paying symbols but the scatter one. Another special symbol is the concrete arrow with a red-eyed skull which can appear on the middle reel. Upon its arrival, the reel will continue to spin, only stopping when this symbol disappears.
The last symbol of interest is the dice, which are this title's scatter symbols. When at least 3 dice symbols appear, you will be able to play Braindead's bonus mode.
Bonus features of Braindead
Although Braindead has more or less gone with a tried-and-true gameplay design, it still provides an exciting experience to any bettors who decide to brave the challenges it throws at them.
The game's bonus features are what truly makes this title shine, the first of which is the progress bar you can see at the top of the slots interface. Its purpose is to gradually fill up every time you do not receive a winning combination and award you with free spins for your trouble. The free spins in question can be then utilized, or you can choose to save them for later. The catch is that you will lose all of your free spins upon winning, so do take care to use them accordingly. The progress bar has 10 sections in total. Losing 4 times will award you with 3 free spins, while 10 consecutive losses will provide you with a whopping 250 free spins.
Another special feature is Braindead's arrow down symbol, rendered to look like an aging piece of concrete with a carving of red-eyed skill. Its role is to keep the middle reel spinning until it takes its leave. In other words, this ominous-looking symbol grants you more opportunities to get a winning combination.
We have saved the best for last, and will thus now focus on one of Braindead's most lucrative mechanics, which is its "Roll the dice" mini-game. To trigger this game mode, however, you will first need to get the appropriate symbols that can unlock it. Said symbols are the dice, 3 of which will grant you 5 tries in this game mode. The rewards you can win consist of extra rolls, the opportunity to double or quadruple your winnings, or extra money. Depending on just how many dice appeared on your reel, the money you might get can increase. For instance, 3 dice symbols can potentially net 35, while 4 dice symbols will grant you the opportunity to win the 100 bonus. If you manage to get 5 dice symbols, you could luck out on a 1000 megabonus.
It is not all smooth sailing, seeing as if your dice roll lands you on a -1, you automatically lose one attempt. In addition, landing on a "Lose" will end the bonus game even if you had extra attempts left. Risks are nothing new to seasoned punters, however, and things like this just serve to make gambling even more thrilling and satisfying than it usually is.
Our Verdict
With all things said and done, Braindead is a title worth trying out. The post-apocalyptic concept the developers went for is executed wonderfully and makes for a stellar visual and audio experience, and the gameplay is fun and quite satisfying thanks to its various features.