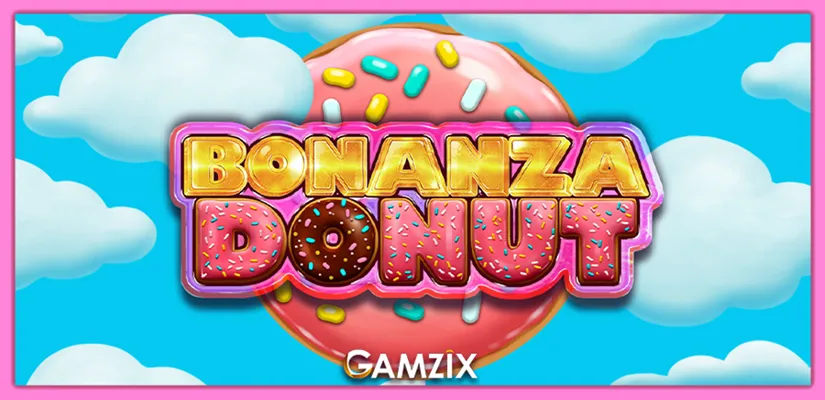 Launched in November 2022, Bonanza Donut is a slot themed after the sweets and pastries one can find in the aisles of a confectionery establishment. The artwork featured in the slot is vibrant, while the sound effects and smooth animations enhance the overall look and feel even more. The game has medium volatility and an RTP of 96.2%.
There are a number of extra mechanics in Bonanza Donut, and this includes a lucrative Free Spins mode, an exciting Bonus Game, and a cascading icons feature dubbed Cluster Round. As casino mavens can see, Bonanza Donut has plenty of characteristics that make it quite an exciting slot.
Bonanza Donut Slot Summary
Provider
Gamzix
Paylines
N/A
RTP
96.2%
Minimum Bet
0.2
Maximum Bet
50
Wild Symbol
N/A
Scatter Symbol
Lollipop
Bonus Feature
Free Spins, Cluster Round, Hot Bet, Bonus Game, Buy Bonus
Jackpot
x13,000
Symbols and Winning Combinations of Bonanza Donut
Winning combinations in Bonanza Donut are formed by combinations of symbols. It takes at least 8 symbols to form a win, and the highest ordinary winning combination features 12+ copies of the same icon.
Bonanza Donut has a total of 9 ordinary symbols, the first four of which are Drops Candy icons. The first one is a Blue Candy icon, and winnings achieved with this symbol reward between 0.20x and 2x the player's bet. The Green Candy symbol is a bit more generous as 12+ copies grant a win of 3x your bet, while the Purple Star's own paytable shows that the highest possible win a player can achieve with this icon is one's bet x4. The final drops icon is the Red Heart, and winning combinations of this symbol have rewards between 1x and 6x the stake.
The next symbols feature different types of sweets, and the icon we will focus on first is the Gummy Bear. An 8-icon combination grants one's wager x1.2, while the largest win is 10x the bet. Next, we have the delectable Sundae that generously rewards players with their bet times 12 if 12+ icons land on the grid. The Cupcake is even more generous with its payout of 15x the bet.
The final ordinary icons are illustrations of different cakes, with the Chocolate Cake paying out 25x one's stake if the highest winning combination forms. As for Bonanza Donut's Strawberry Shortcake symbol, lucky players can look forward to receiving their wager x50 if 12+ copies of this icon land in a winning combination.
The Lollipop has the role of the Scatter icon in Bonanza Donut, 4 of which activate the Free Spins mode. This symbol also has a paytable, and combinations of 3, 4, and 6 copies reward players with their wager x3, x5, and x80, respectively.
The final symbols of Bonanza Donut are tied to the extra features. During Free Spins, the Donut icon serves as a multiplier, while Ticket symbols can activate the Bonus Game.
Bonus Features of Bonanza Donut Slot
The developers behind Bonanza Donut have not neglected to bake a variety of extra features into the slot's gameplay loop, and the first one, gaming enthusiasts will appreciate, is the so-called Cluster Round. Whenever a set of icons group into a winning combination, all copies of the said symbols disappear, and new icons fall in their place. If the new symbols also form a winning combination, this triggers another cluster round.
Next, we have Bonanza Donut's Free Spins mode. To trigger Free Spins, players need to be lucky and see at least 4 Scatter Lollipops drop on the slot's grid. If players do not wish to wait for Free Spins to be triggered naturally, they can use the Buy Free Spins feature.
The Scatter is not within the Free Spins' icon roster, while icons like the Donut Multiplier and the Tickets are introduced. The former is assigned a random multiplier between 2x and 100x when it drops, and it is a sticky icon that will remain on the grid until the Cluster Round ends. If you luck out on multiple Donut symbols, their multipliers are all gathered, and all of them affect your final win.
Another symbol exclusive to the Free Spins bonus is the one that illustrates gold tickets. The Tickets icon is what triggers the Bonus Game, which has two possible modes – To Go and Take away. Both modes involve a player being presented with 5 boxes to open. Picking a box rewards the individual in question with a random multiplier. If they get between 5 and 9 Ticket icons, they are rewarded with To Go boxes which can net wins between x1.5 and x5. As for players who see 10 Ticket symbols on the reels, they are taken to the Take Away mode, where boxes grant multipliers between x6 and x10.
Finally, we will cover the Hot Bet feature, which is another type of bet that can be placed. If you select this option, 0.25x your stake is added to your bet, and this gives you a higher chance of accessing the Free Spins mode.
Our Verdict
Gaming mavens with a sweet tooth are certain to appreciate what Bonanza Donut has to offer. The slot's tasty graphics look fantastic, and the gaming experience itself is quite fun with an excellent excitement factor. There is no shortage of bonus mechanics, and the 96.2% RTP is a bit higher than the average typically seen across the iGaming sphere.