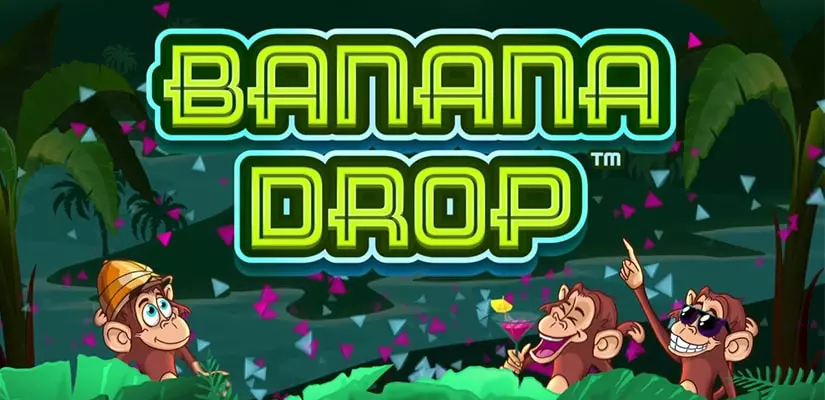 Join us and let Crazy Tooth Studio take you on a neon, banana fueled romp through the cartoon jungle. Banana Drop may be one of Crazy Tooth Studio's tamer works, but that doesn't stop this monkey filled slot game from being any less entertaining.
This 6×4 reel slot may be light on special features but you'd be bananas to think that will stop it from becoming a favorite among slot fans. The BIG Buildup technology at play in this slot ensures that you'll be on the edge of your seat waiting to see the results of the next Banana Drop.
Banana Drop Slot Summary
Software Provider
Microgaming and Crazy Tooth Studio
Payline Number
4096 ways to win
RTP
96.70%
Minimum Bet
$0.15
Maximum Bet
$30.00
Wild Symbol
Yes – Blue Bananas
Scatter Symbol
Yes – Fern in an octangle
Bonus Features
Falling Banana, Banana Drop Bonus Spins
Jackpot
Up to 6,031x bet
Symbols and Winning Combinations of Banana Drop Slot
While somewhat tamer than previous titles, Banana Drop from Crazy Tooth Studios is still a vibrant, colorful, and entertaining slot to play. Set against a bright and bold background of a cartoon jungle stands a 6×4 reel slot, inhabited by an array of eye-catching symbols. Above which you find bananas swaying peacefully in the jungle breeze.
As you spin away you'll notice that the number of bananas on each tree increases at random intervals, and then from nowhere a cheeky monkey swings across your screen sending bananas cascading down the reels. We'll get to the Falling Bananas later.
Banana Drop contains a total of thirteen symbols, eleven regular, one wild, and one bonus. Each symbol is brightly colored, easy to understand, and well designed. The eleven regular contain three low worth, four medium worth, and four high worth and are:
Low worth – Watermelon, Coconut, Pineapple
Medium worth – A, K, Q, J
High worth – Hippo, Giraffe, Zebra, Lion
Each symbol is well animated, but it is the high worth symbols that stand out as any winning combination made up of those will treat you to a short animation of a monkey wearing one as a mask.
The only word that comes to mind when we see the wild symbol is funky. The wild symbol, in all its neon glory, functions the same as it does in most other slots. That is, it acts as a substitute for every other symbol, excluding the bonus, to help increase your winnings by creating more paying combinations.
The scatter, or bonus, symbol in Banana Drop is a fern leaf in a subdued blue color encased by an octagon.
Being a medium volatility slot with an above-average RTP, the frequency of payouts is on the low side. However, this is counteracted by the Any Adjacent Pays feature. This means that matching symbols will create a winning combination across reels so long as they are adjacent.
Bonus Features of Banana Drop Slot
We told you we'd get to the Falling Bananas later, and here we are. When you see a monkey swinging across your screen, knocking bananas down as he goes, this is the Falling Banana special feature being triggered. Bananas will fall onto one or more reels, up to a maximum of three bananas per reel, and will cover one symbol each.
A great little animation of monkeys eating bananas will play, it entertained us each and every time, following which your prize will be revealed. You will be rewarded with either credit or wild symbols.
The second special feature of the Banana Drop slot is Banana Drop Bonus Spins. This is triggered when 3 or more bonus symbols appear in the reels after a spin and will give you seven free spins on special reels. During the bonus spins, bananas will drop after each spin, occasionally a monkey will appear to shake a tree which increases the number of bananas that will fall up to a maximum of three.
Verdict
We had a great time playing Banana Drop, the graphics are a colorful pleasure to look at and the animations had us giggling regularly. These factors along with its medium volatility and 96.70% RTP all but guarantee that Crazy Tooth Studio's latest slot will be a fan favorite.
Swing by and give Banana Drop a try, you'd be bananas not to.