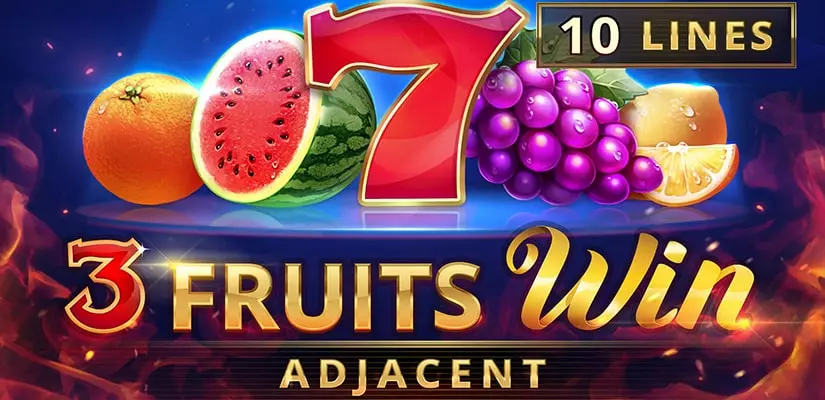 3 Fruits Win is a neat little video slot developed by Playson. While completely unassuming at first glance, this game is one of the more compelling titles that you can find in the slots genre. It changes the traditional payline system and offers a new and compelling way to form wins. Of course, it retains enough to be familiar to fans of established gameplay elements.
As a video slot, 3 Fruits Win comes with 10 different paylines spread over five reels. Not only that but the betting limits are wide enough to accommodate any bankroll and play style. Specifically, you will get to wager anywhere between $0.10 and $100 per spin. There is more to this game and below, we will go over every important aspect.
3 Fruits Win: 10 Lines Slot Summary
Software Provider
Playson
Payline Number
10
RTP
96.21%
Minimum Bet
$0.10
Maximum Bet
$100
Wild Symbol
No
Scatter Symbol
Yes
Bonus Features
Winning combinations can be formed on any part of the payline, as long as the symbols are adjacent. Wins do not need to start on the leftmost reel.
Jackpot
N/A
Symbols and Winning Combinations of 3 Fruits Win: 10 Lines Slot
3 Fruits Win comes with eight different symbols, all in the traditional style. They take the shape of various fruits and you will get to form combinations with them by lining them up on the set paylines.
The first symbols on our list are the Cherry and Lemon. These two share a paytable and will provide the same rewards. Specifically, you will receive 150 coins when you spin five of a kind on a payline. If your luck is not as good and you hit only 4 of one, you will get 25 coins.
The Plum and Orange are next in line and they feature marginally increased payouts. When you line up five of either type, you will receive 200 coins for your trouble.
The Grapes and Watermelon are the next pair that we have to account for. These symbols come with much better rewards than the previous four and will definitely be worth the cost of the spin. More specifically, a x4 combination with either will pay 150 coins, while a full line will net you 500 coins.
The Lucky Seven is the best-paying symbol in this game and also one of the rarest. However, the reward it offers will more than make up for its inconsistent nature. If you spin four on a line, the game will pay 500 coins. But if you cover a full line, you will receive a whopping 2,500 coins.
The Scatter is the only special symbol in this game and its primary function is that it can form combinations without paylines. You simply have to spin Scatters anywhere on the reels to receive a payout. When you hit four Scatters anywhere, you receive a payout of 100 coins. However, if you manage to spin five, the reward increases to 500 coins.
Bonus Features of 3 Fruits Win: 10 Lines Slot
3 Fruits Win is different from other slots in the iGaming scene by a significant margin. For one, it does not have any bonus rounds, free spins, mini-games or other such features. You are only presented with the base gameplay. However, what you have available in it is more than enough to capture your interest.
The primary special feature of 3 Fruits Win is that you can form winning combinations anywhere on the paylines. Specifically, the pattern does not have to start at the leftmost reel to register as a winning one. This happens that a combination can start on the second reel and end on the fourth one and still pay out the appropriate reward. Of course, it still has to follow the line pattern to qualify.
Our Verdict
3 Fruits Win is certainly an interesting game and the like of which we rarely see in the online casino scene. It does something quite impressive in offering a compelling gaming experience using only the base gameplay. Whereas most other slots are packed with bonus rounds, 3 Fruits Win does not even have a Wild symbol. Still, it manages to outshine other games simply by offering something novel and exciting.