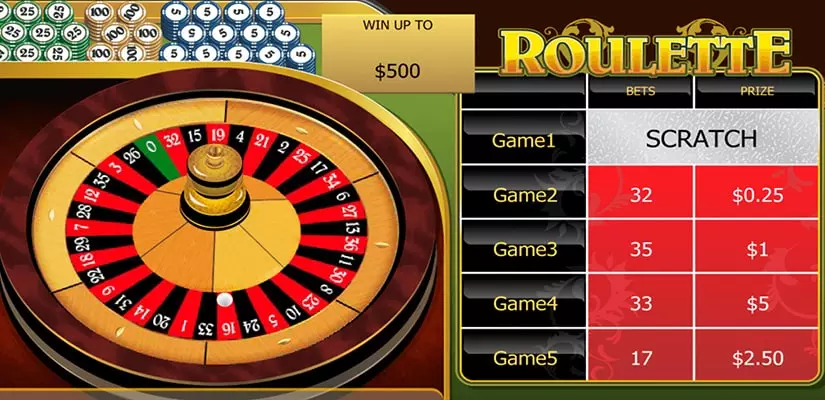 When it comes to pushing the envelope, there are few software providers that can match Playtech's desire for innovation. Roulette Scratch brings together the genres of roulette and scratchcards to present an entirely new game type, unique in the online gambling industry. Though not all online casinos feature this game, a few Playtech-powered ones still include it in their gaming libraries. While rare, Roulette Scratch is still very much worth it even if only for the experience. In this review, we will take a look at Roulette Scratch and how it works.
Roulette Scratch Summary
Provider
Playtech
RTP
97.30%
Minimum Bet
$0.05
Maximum Bet
$10
Wheel Number
37
Ball Number
1
Multiplayer
no
Jackpot
up to $100,000
Popular Bets and Payouts of Roulette Scratch
Roulette Scratch is a hybrid between two different game types and as such, it borrows certain elements from one and features from the other. However, one thing that remains the same is that it is still a game of chance and one in which there is no decision making. Roulette Scratch utilizes the European-style wheel, with 36 alternating red and black numbers, as well as, a single green one for the zero pocket. Unlike traditional roulette, there is no numbers grid and you cannot place the traditional wagers. Instead, you are required to scratch out one of the five fields, which will reveal a number. After this, you spin the wheel and if the ball lands in the appropriate pocket, you earn a payout.
It is really that simple and there is nothing really to it. Effectively, Roulette Scratch takes the standard roulette formula, however, instead of giving you the option to choose your own numbers, the game does it randomly for you. The odds of winning a Straight bet are the same as scoring a win in this game. This makes Roulette Scratch better suited for casual players and those unfamiliar with the roulette formula, as it takes away most of the intricacies from the numbers grid. Once familiar with how it all works, one could easily move onto a more traditional roulette table.
Specific Features of Roulette Scratch
In terms of features, the ones that Roulette Scratch includes do not really deal with the gameplay itself. Rather, they are more logistical features, yet useful nonetheless. For example, you can easily increase the speed of the game's animation, allowing you to play more spins in the same time window. Moreover, you also have the option to put the game in Autoplay mode, saving you the trouble of clicking with every spin. Additionally, you also have access to the spin history of your session. This is specifically useful for those who like to keep track of statistics to give themselves an edge up on future bets. Finally, you can also use the Shuffle feature to change your ticket up to three times, if you feel the chosen number is not in your favor.
Verdict
Overall, Roulette Scratch is an intriguing game and a rare gem in the online gambling industry. There really is nothing like it and you should certainly play a few spins if you manage to find it. Of course, fans of traditional roulette will likely not appreciate this, but it was intended for them. In short, Roulette Scratch is the type of game that you rarely come across and should definitely try out when given the opportunity.