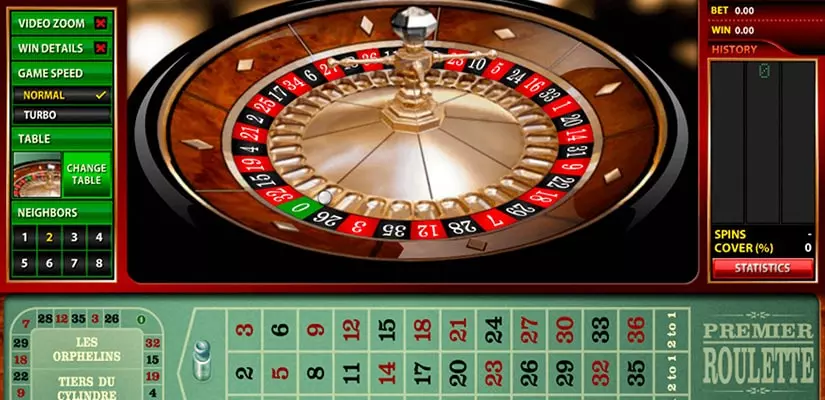 If you are a fan of roulette, then you will definitely find Premier Roulette by Microgaming very entertaining and rewarding. As there are different players and some of them can afford making riskier bets, Microgaming has decided to make a game suitable to both recreational players and high-rollers.
Premier Roulette entices with its realistic spinning wheel and diverse betting options. This is a variation of European roulette which means that the house edge is going to be 2.70%. Players will have the chance to make all the typical roulette bets and also many expert bets. This way, roulette fans have the chance to make their gaming time a lot more fruitful and fun.
Premier Roulette Summary
Provider
Microgaming
RTP
97.30%
Min Bet
$1.00
Max Bet
$2,000
Wheel Number
1
Ball Number
1
Multiplayer
N/A
Jackpot
N/A
Popular Bets and Payouts of Premier Roulette
It is extremely easy to play Premier Roulette as the game uses the standard rules that apply to European roulette. This also means that players will have all the typical betting options on display. They will be able to make a Straight bet on any number of the wheel and if they make the right choice, they will enjoy the standard payout of 35 to 1.
You can make all usual inside and outside bets while you play Premier Roulette. You will be able to bet on columns and dozens or place your chips on even money bets like Even/Odd, Black/Red or High/Low. In addition to the typical bets, players will also be able to use a racetrack where they will find Call bets like Les Orphelins, Tiers du Cylindre, Voisins du Zero. What is more, there will also be options like Red Splits and Black Splits which allows players to bet on neighboring black or red numbers.
What makes Premier Roulette a truly unique game, however, is its Expert Mode. If you are confident in your gaming skills, then you will have the chance to make many more Call bets which cover various numbers on the table layout.
Specific Features of Premier Roulette
Despite looking like a standard roulette game, Premier Roulette has a wonderful feature which allows players to switch between a Regular and Expert mode. If you opt for the first one, you will be able to make all the standard inside and outside bets and also make several Call bets from the racetrack, positioned next to the table grit.
If you want to make your betting experience more thrilling, however, you can switch to Expert mode. This will allow you access to a handful of other Call bets which will cover different numbers on the wheel.
If you open the list with expert bets, you will notice that the first five are the same that can be made on the racetrack. The first special bet you can make in Expert mode is Orphelins Plein which will cover the same numbers that Les Orphelins does but instead of Split it will make Straight bets.
The next Call bet is Zero Game which will allow you to bet on the single-zero socket and a few neighboring numbers. The next pattern you can cover thanks to the Call bets of Premier Roulette is the one known as 007. It allows you to cover a huge part of the table and hopefully enjoy a fruitful outcome. The following Call bet is called Snake as the chips on the table grit form a Snake-like pattern. Other Call bets you will be able to make while playing Premier Roulette include Random 7, Finales en Plein, Number Combo, Chip Bomb, Finales A Cheval.
Verdict
Premier Roulette is a wonderful variation of the casino classic which is suitable for different online players. Whether you prefer a simpler betting system or you are willing to make riskier bets, you can play Premier Roulette the way it will fit your taste the best. Thanks to the feature that allows you to switch between Regular and Expert mode, you can enjoy a thrilling and very rewarding casino experience which will suit your preferences.