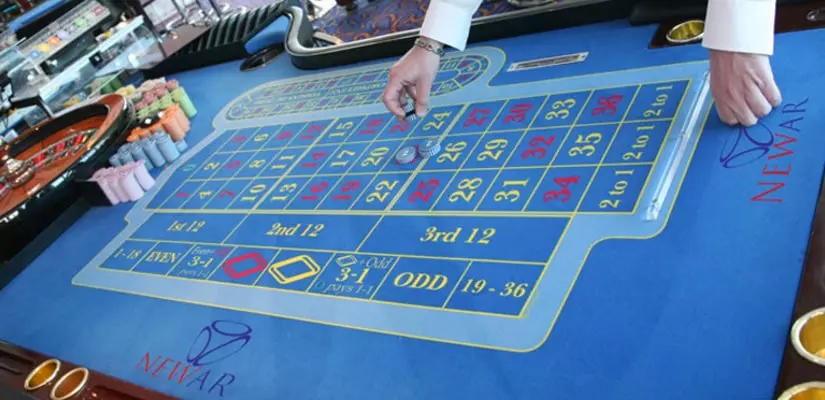 Widely considered to be one of the first games to appear in casinos, roulette has become quite a conventional game of chance. And although the majority of online versions of the classic are more or less the same, very few of them are as visually impressive and interesting as NewAR Roulette. It is one of the latest releases by Playtech and combines sleek visuals, great customization options, and smooth performance.
This is a classic European-style roulette game that uses a 37-pocket wheel – there is a single zero pocket in green and of the rest of numbers, half is red and the other half black. Along with the high-quality graphics, NewAR Roulette comes with nice customization options. Players can switch the game view, pick a color for the table, opt for Fast Play, and see the last ten numbers that were hit in the History panel. What makes this game really unique, however, is the addition of several special outside bets.
NewAR Roulette Summary
Software Provider
Playtech
RTP
94.60%
Min Bet
$0.10
Max Bet
$400
Number of Wheels
1
Number of Balls
1
Multiplayer
No
Jackpot
N/A
Popular Bets and Payouts of NewAR Roulette
As NewAR Roulette is based on the classic French/European game of roulette, it offers all standard outside and inside bets with their typical payouts. Players can easily make the following bets – straight up (35:1), split (17:1), street (11:1), corner (8:1), line (5:1), dozens (2:1), columns (2:1), red/black (1:1), even/odd (1:1), and high/low (1:1).
One of the best features of the game is the racetrack – the additional betting layout where players can place the so-called Announce or Call Bets. These are, of course, the multi-chip French bets Voisins du zero, Tier, and Orphelins, and they allow wagering on larger sections of the wheel. Payouts here vary significantly, depending on the winning number.
In addition, players can also find the Final Bets by clicking the tiny More Bets button in the right bottom corner of the screen. These include numbers that end in the same digit – 5, 15, 25, and 35, for instance. Depending on the final bet, players may need to wager 3 or 4 chips and if they win, they receive a standard straight up bet payout for the specific number that came out. But that is not all, this game allows for a few other interesting bets to be made and we will explain them in detail below.
Specific Features of NewAR Roulette
Playtech's NewAR Roulette stands out from most virtual roulette games with its stunning visuals and great gameplay but what makes it really special is its extra bet types. First of all, this game allows betting on both red and black, as well as on even and odd, and high and low. This is usually not permitted and most casinos would actually consider such betting patterns advantage play. In reality, players who resort to this kind of wagering would neither win nor lose in the majority of instances and they would break even. The only exception will be, of course, when the ball lands on zero and both their bets lose.
The other types of bets that can be found only in Playtech's NewAR Roulette are even more interesting. These are two special outside bets that even have dedicated sections on the betting layout. The first one is the Black+Odd/0 Bet and with it, players bet on all black odd numbers and on the zero – 0, 11, 13, 15, 17, 29, 31, 33, and 35. To place it, they simply need to put 1 chip on the respective betting section. If a black odd number comes up, they receive a payout of 3:1 and if the ball falls on zero, they are paid 2:1.
Players can also opt for the opposite wager, the Red+Even/0 bet, which covers 0, 12, 14, 16, 18, 30, 32, 34, and 36. Once again, this is a single-chip bet and the payouts are as follows – 3:1 for all red even numbers and 2:1 for zero.
Verdict
There are more than a hundred takes on the classic roulette game and compared to the vast majority of them, NewAR Roulette is far more appealing – both visually and in terms of gameplay. Just like all roulette games, it is fairly simple and easy to play but it features two interesting bet types and allows betting on both red and black, even and odd, or low and high numbers.
All this is really great but there is one more thing players should consider – Playtech's NewAR Roulette has a house edge of 5.40%, twice as high as in the typical single-zero roulette game.