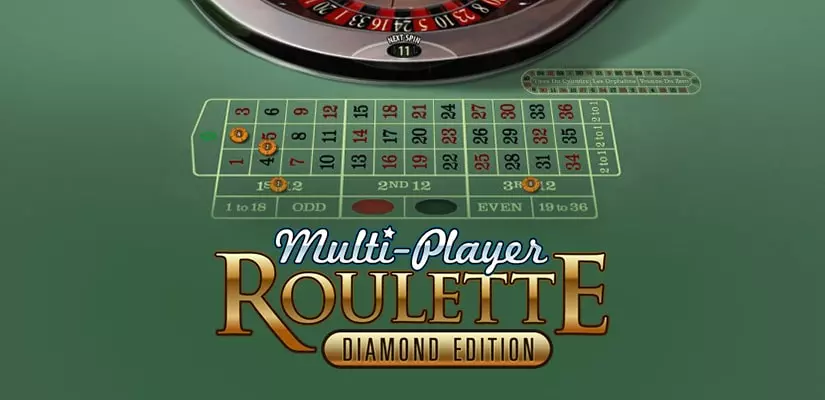 The precursor to live dealer roulette, Multiplayer Roulette Diamond Edition is one of the most interactive virtual games that you will find in the online gambling industry. Featuring traditional European rules, it is quite favorable in terms of odds, but that is hardly the main focus. When playing this game, you will be sat beside other hopeful players and you get to enjoy the experience alongside them. In this review, we will take a closer look at this innovative variation and give you our honest feedback.
Multiplayer Roulette Diamond Edition Summary
Software Provider
Microgamiing
RTP
97.30%
Minimum Bet
$1.00
Maximum Bet
$80.00
Wheel Numbers
37
Ball Numbers
1 per wheel
Multiplayer
Yes
Jackpot
No
Popular Bets and Payouts of Multiplayer Roulette Diamond Edition
Multiplayer Roulette Diamond Edition is played in the European style, with 36 alternating black and red pockets and a single zero one too. As such, it follows standard European payouts and odds. A Straight-Up bet will pay the typical 35:1, whereas the Split will give you a payout of 17:1. If Outside bets are more to your liking, then you will need to know that Red/Black, Odd/Even and High/Low still feature the even-money reward. On the other hand, successful Columns and Dozens bets will net you a payout of 3:1.
Additionally, we can also easily calculate the house edge and the RTP values of the game. European Roulette comes with an RTP of 97.30% and a house edge of 2.70% and the same is true for Multiplayer Roulette Diamond Edition since it follows identical rules. This is perfectly in-line with the industry standard and European rules are some of the more favorable in terms of overall odds.
Specific Features of Multiplayer Roulette Diamond Edition
The main appeal of Multiplayer Roulette Diamond Edition is that you get to play alongside other players at the same time. Think of this title as a live dealer game in virtual format. Multiplayer Roulette can accommodate theoretically an unlimited number of players and you all get to communicate with the built-in chat system. However, since there are other people at the table, you will not have the option to take as long as you please between spins. If you fail to place your bets within the brief window between spins, then you will miss out on the next one.
The chat system is arguably the most immersive feature of this game, as you can freely talk to other gamblers there. You can discuss just about anything, congratulate each other on wins or commiserate on losses. It is almost like standing at a physical roulette table, or the closest you can get to it.
Outside of that, you will also have access to the statistics of previous spins, which can be useful to you if you are good with numbers. Additionally, the Rebet function allows you to easily place the same bet. This is especially useful if you like to put down intricate bets and do not want to click a dozen times after each spin.
Verdict
Overall, Multiplayer Roulette Diamond Edition is an interesting variation of the roulette formula that brings you closer to your fellow gamblers. Granted, it is not the most played game out there and not that many online casinos offer it. However, if you ever come across it, we recommend that you give it a shot.