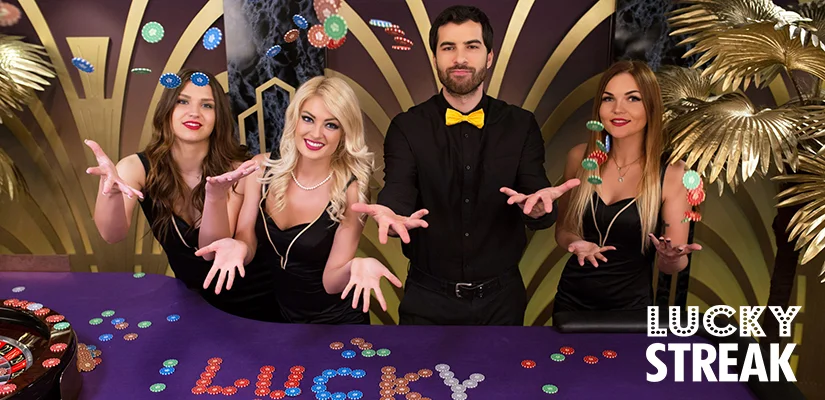 Compared to the big names in the iGaming market, LuckyStreak is still considered a newcomer. Given the innovations the company strives to introduce and the growing number of online casinos that include its titles, we believe that the future ahead is very promising.
Today we present to you the Live Auto Roulette which comes with a nearly perfect video stream, a 97.3% RTP, and some interesting features that will make you remember the game for sure. Live Auto Roulette attracts players with its realistic spinning wheel, clear rules, and various bet types.
Live Auto Roulette Summary
Provider
LuckyStreak
RTP
97.3%
Minimum Bet
$0.5
Maximum Bet
$12,500
Wheel Number
1
Ball Number
1
Multiplier
N/A
Jackpot
N/A
Popular Bets and Payouts of Live Auto Roulette
LuckyStreak has developed an easy-to-play European roulette that provides all the traditional types of bets. These include the standard range of inside bets – straight, split, corner, street, or line ones. Each of them comes with a different maximum bet amount. For the straight up bet, this amount is $150, while for the line bet it is $900.
If you like online gambling but don't want to take too much risk, you will probably prefer to place outside bets where the payout ratio is 1:1. When playing the Auto Play Roulette provided by LuckyStreak, you can bet on Red/Black, Even/Odd, and 1-18/19-36 where the maximum you can wager is $1,800. The other two available bet types are Dozen and Column, which are paid 2 to 1.
After a new round is initialized a special Neighbour Bets button appears for a few seconds, which enables you to make several special selections. By clicking on a number, you place a bet also on its adjacent four numbers (2 on each side). Players can make even more significant call bets if they select one of the special areas – Serie ⅝, Orphelins, Serie 0/2/3, and Zero, which cover a different number of pockets and logically come with different payout odds.
Specific Features of Live Auto Roulette
The gaming screen is not overburdened as all user interface elements are shown in the upper and bottom menus. The game allows as many participants as possible to fully understand its rules since it is available in 13 languages. In the upper right corner of the screen, there is a drop-down menu from where you can choose English, Spanish, Italian, French, Turkish, and some more. Right next to it you find the settings tab which enables you to adjust the video quality and also switch on and off the win animations and sound effects.
Players can wager via a digital betting layout or via the Neighbour Bets button that shows up before collecting the bets. The roulette table incorporates a slot for tips, so you may share your good fortune if you want to. Players must be rather quick when deciding what bet to place, as there are just a few seconds between the rounds.
Just one click will open a small window showing the regular inside and outside bets you can place together with the relevant payout ratio and the maximum amount you can wager. On the right side of the screen, you have a Statistics tab showing the recent winning numbers. If you click on it, you will find information about hot and cold numbers.
If roulette attracts you, but you are afraid to play because you do not know the rules well, you can rest easy with the Live Auto Roulette by LuckyStreak. The rules of the game, the way bets are placed and other betting aspects are explained in a very clear and understandable way. Furthermore, you can first try a few rounds of the wheel in demo mode and then switch to a real-money game, where you can feel the real thrill.
Verdict
The only small drawback of Live Auto Roulette we can think of is that you will be quickly disconnected if you stay inactive even for a short period of time. The user-friendly layout of the game, however, as well as its convenient features, make this title provided by LuckyStreak, worth trying.