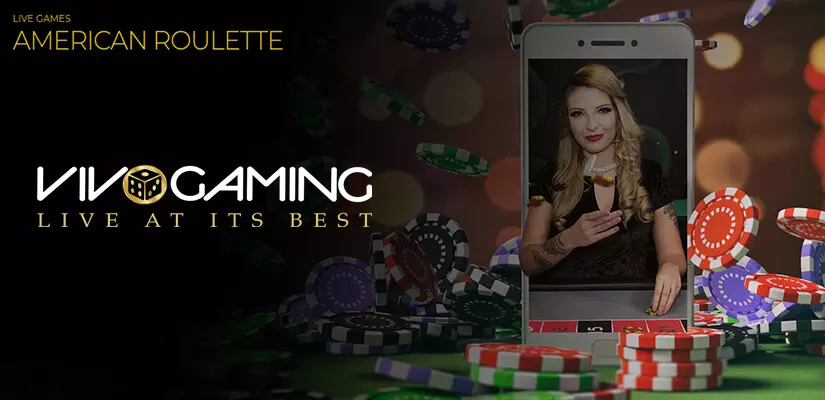 Based on cutting-edge technology, American Roulette by Vivo Gaming can bring the thrill and excitement of betting on roulette in a land-based casino. Thanks to the premium quality of the streaming, multiple camera angles, and the experienced and friendly croupiers, players will get the feeling that they have just walked into a casino.
This roulette version sticks to the standard set of rules most other American-style roulette games follow, but it undoubtedly excels in when its special features are concerned.
What further adds up to the appeal of this roulette variant, and the games supplied by Vivo Gaming, in general, is that they are high-performing across desktop and portable devices.
Age of the Gods Roulette Summary
Provider
Vivo Gaming
RTP
94.74%
Min Bet
Varies among casinos
Max Bet
Varies among casinos
Wheel Number
1 wheel
Ball Number
1 ball
Multiplayer
N/A
Jackpot
N/A
Popular Bets and Payouts of American Roulette
In spite of the fact that Vivo Gaming's American Roulette comes with an increased house edge of 5.26% because of the extra double-zero pocket, this should not pour cold water on players. The software provider has not put a new spin on the classic table game as players will be provided with the opportunity to choose between the standard bet options. Depending on their preferences, they can place inside, outside, and call bets, and the objective remains to make a correct pick about the number on which the white ball will land.
While availing themselves in the game, players should be mindful of the fact that they will have a limited amount of time to place their wagers.
As far as payout rates go, straight bets boast the highest one of 35 to 1, but what players should not forget is that the odds of winnings are rather low. Splitting you wager between two neighboring numbers is also an option this live-dealer roulette variant offers, and players will be paid at the rate of 17 to 1, if their bet becomes a winning one.
Street and corner bets are available as well, and their payout ratio is 11 to 1 and 8 to 1, respectively. Since a double-zero roulette wheel is employed in this game, avid casino fans will be allowed to place a basket bet as well, which provides payouts at the rate of 6 to 1.
There is nothing to worry about if you are more comfortable with placing outside bets as Vivo Gaming's American Roulette allows for dozens/ columns, which pays at the rate of 2:1, and even-money bets the likes of high/low, red/black, and evens/odds.
Specific Features of American Roulette
It is true to say that what makes Vivo Gaming's live-dealer solutions instantly recognizable is the broad assortment of special features they go hand in hand with.
Players will have the chance to dive into the interactive atmosphere of this roulette variant from the comfort of their surroundings because it works like a charm not only on desktop but on portable devices as well.
If they decide to access American Roulette on their tablet or smartphone, players will be given the freedom to enjoy the game in a landscape or portrait mode, while 2D and 3D modes will be available to users of desktop devices.
The multi-play feature is also available across the games that are courtesy of Vivo Gaming, and thanks to it, players will be able to place bets at several tables simultaneously. What is important to note, however, is that the availability of this feature might depend on the casino you are playing at.
The bet controls players will see are pretty much the standard ones as they will be permitted to clear their chips off the betting layout, opt for a rebet, or give up on their wager.
As likely as not, the multi-user interface of this double-zero roulette variant is one of the special features players might appreciate most as there will not be a ceiling on the number of users who are permitted to make betting decisions at the same time.
The cameras will zoom the table when the outcome of the round is determined, and if your bet is a winning one, the payout you will collect will be displayed right below the winning number.
The toolbar lies on the right-hand side of the screen, and it makes for quick access to statistics and the figures for hot and cold numbers. The interface of the game is user-friendly and is available in over 20 languages, which is certainly a major plus.
To opt for any of the call bets, players simply need to click on the racetrack that is pinned in the lower right corner of their screen.
Verdict
Vivo Gaming's European Roulette leaves little to be desired as the game stands out from the crowd with its multiple special features and the premium quality of the video feed. Due attention was paid to each and every detail, which promises that the feeling of playing roulette in a brick-and-mortar casino will carry over to your desktop or portable device.