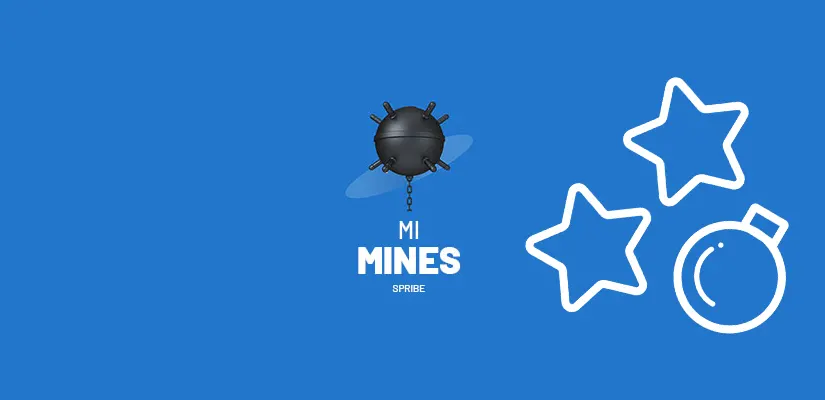 As the online gambling industry is constantly evolving and offering new products to players, crypto mini games have become something that many players enjoy. With the number of crypto-friendly casinos growing significantly, you can find plenty of websites offering a wide range of crypto games. One of the titles that are commonly found at crypto casinos is Mines by Spribe.
The main goal of Spribe is to offer online players a brand-new gaming experience, with the games the provider created being provably fair. That allows any player to verify the fairness of every past result and make sure the results in Mines are always free of any bias.
While the game is far from being complicated, it requires a certain level of risk, as sweeping potentially higher payouts is possible only if players take a risk and continue playing the game. While Mines is all about players making their choice for every move they take on the game's grid, there is also an Autoplay feature that can allow players to play several rounds with the same pattern.
A live chat option will allow players to communicate with fellow Mines players. What is more, free bets can often be awarded in the live chat so you are advised to always keep an eye out for random messages giving out free bets.
Crypto Mines Details
Developer
Spribe
RTP
97.00%
Volatility
Low – Medium
Provably Fair check
Yes
Bet range
$0.10 – $100 per bet
Chat feature
Yes
Multiplayer mode
No
Max win
$10,000.00
How to Play Crypto Mines
Playing Mines by Spribe is extremely easy and chances are, you have already played similar games in your childhood. Unlike games like Aviator, Mines is played individually by each player, allowing you to make decisions and enjoy the fruits of your predictions. This crypto mini game will display a 5×5 grid, with each tile on the grid hiding either a gold star or a mine. Your goal is to discover some or all gold stars on the grid without revealing a mine.
Before you start playing the game, you will need to set up your bet, with players having the chance to wager anywhere between $0.10 and $100 per gaming round. Once you set up your bet size, you will notice that the game will show you what is the profit for your next correct guess of star placement on the grid. The potential return for each upcoming round will increase proportionally, with the general multiplier applied to your stake being determined by the number of mines included in the game.
When you set up your bet size, you can also choose the number of mines hidden behind the game's tiles. The more mines you choose to play with, the riskier the game becomes, which will significantly increase the potential return on correct guesses. Whenever you are ready with your bet amount and setting on mines, you can press the BET button and start a new gaming round. You can select any tile you wish to reveal or you can press the button "Random" to have the game choose a random tile instead of you.
As we already mentioned, you can reveal only a few gold star symbols and finish the game as a winner. After each correct guess, you will see the potential return you can enjoy if you decide to cash out at that specific moment. If you want to continue looking for gold stars and you are confident about revealing only lucky symbols, you can keep on choosing tiles. Be careful, however, as landing a mine will put an end to the gaming round and you will lose your bet and any potential return you would have enjoyed had you cashed out in the previous round.
Features of Crypto Mines
Even though Mines is a rather straightforward game to play, it also incorporates a few features in its gameplay, giving players the chance to improve their Mines experience. As mentioned above, you can adjust the number of mines to improve your winning odds. If you just want to let the game decide each move, you can simply press the button that says "Random". Each time you opt for this feature, the game will pick a random tile on the screen. Since the choice will always be free of any bias, letting the game reveal random tiles does not mean that you will not risk hitting a mine and losing the gaming round.
Another feature that players may utilize when they do not feel like pressing tiles over and over again is the Auto Game. If you activate this mode of Mines, you will be allowed to pick a pattern by selecting tiles on the screen. You can choose to mark only a few positions on the screen or opt for a pattern that will leave space only for the possible mines. Once you are done with your pattern, you can press the Auto Bet button, which will prompt you to select the number of rounds to play with the set pattern.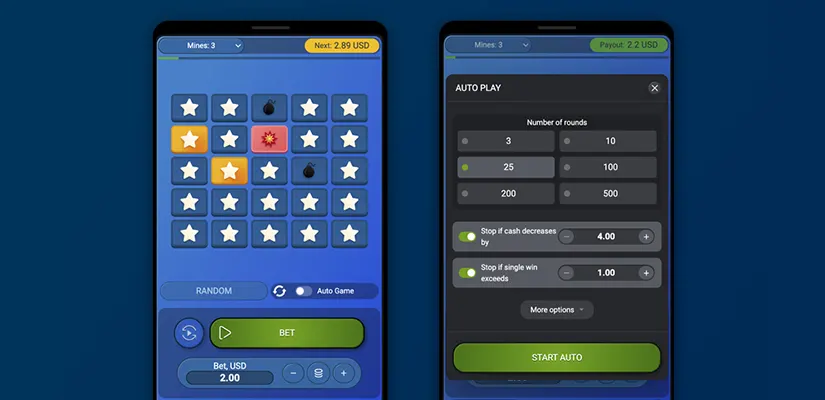 The Auto Bet menu of Mines will also allow players to adjust other settings such as stopping the feature if the balance drops below a certain amount or when winnings reach a specific cap. Additional settings can stop the Auto Bet feature if the balance surpasses a specific amount. Those who enjoy betting patterns can also set a percentage to decrease or increase their bet amount if there is a win or a loss.
Even though Mines is played individually by each player, like other crypto games, it also has a social element. Thanks to a live chat feature, players can communicate with fellow Mines fans, making the whole experience a lot more fun. In the live chat section, players can also redeem free bets, which may be given randomly to chat members, with a feature like Rain Promo encouraging more interactions in the chat.
Variations of Crypto Mines
If you join a crypto casino, there is a big chance to come across a variation of Mines, provided either by another software company specializing in provably fair games or by the crypto casino. One such variation is Mines by Turbo Games, offering a pretty much identical gaming experience.
Mines by Turbo Games will allow players to choose the number of mines, with the least risky grid containing only two mines. Just as it is with the Spribe version, the return on the following correct guess is determined by the risk level you play with. If you have unveiled gems, you can choose to cash out at any point before you hit a mine. Changing the number of mines will naturally affect the volatility of Mines, giving you better chances for smaller wins when the number of mines is significantly lower.
The game also provides statistics, which change with every move you take in the game. With every gem that you reveal on the grid, you will notice the percentage of discovering a mine increasing. This may be helpful to determine when it is the best time to cash out and enjoy your profit.
Like the version by Spribe, this variation of Mines supports an Autoplay feature. You can choose a specific pattern, which can be automatically applied to the next few rounds. You can also choose to end the autoplay at a certain point of decreased or increased budget.
Mines by Turbo Games is also a provably fair title, which means players can check the fairness of every result in the game. If you check the section displaying all the best made by other players, you can click on any player and view the hash for the said game round. The same feature can also be utilized for your bets by loading the sections with your previous wagers made in Mines. Click on any of the results and you will view the operator seed, your seed, and the result of the game, proving the fairness of the game.
Provably Fair Technology and RTP
Mines is a game utilizing provably fair technology, which can be used by players at any time to confirm the fairness of every result. Instead of each round's result being determined by the operator's servers, each player placing bets on Mines will also participate in the process of determining the random result in every round of the game.
The way the provably fair feature works in Mines is by combining a server seed and a seed generated on the device of players who bet on Mines. When the two seeds are combined, they create a hash, which is then transformed into a decimal number that corresponds to a specific outcome.
The first half of the hash that players can see is generated on the operator's servers, with the hash changing on every new round. Not only will players be able to view the seed for the current round but they will also see the operator's seed for the following round.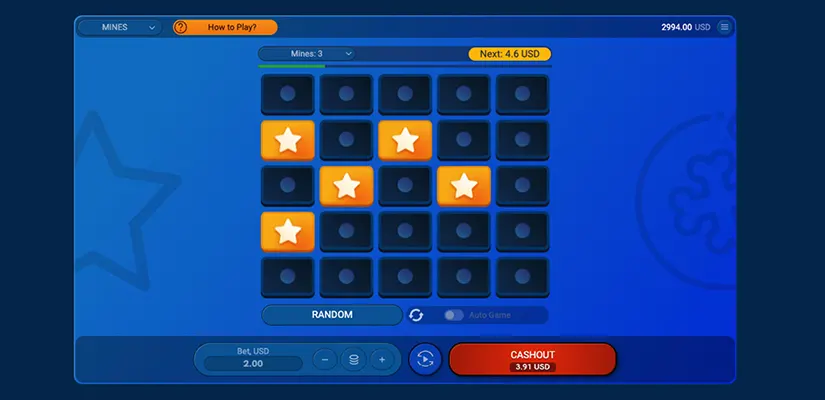 The second half of the hash is generated on your device when you decide to play Mines and you can change the client seed at any time. When the two strings are combined, you will get the entire hash, which will then determine the result of the gaming round. You can check these seeds at any time by selecting the Provably Fair section of the game's menu.
As for the potential return of the game, you will have a rather decent RTP of 97% while playing Mines. This is a rate, which is higher than the player return that many video slots are offering, which means Mines is a rather good option to play for real money. When we talk about the volatility of Mines, we can conclude that it ranges between low and medium as the number of mines changes the potential of landing smaller but more regular wins.
Multiplayer and Social Elements in Crypto Mines
Unlike games like Aviator where you will join other players in the journey of winning money while playing, in Mines, you will play on your own. Instead of waiting for a new round to begin to be able to play, you will adjust all betting settings of the game and start playing whenever you are ready.
Even though Mines is a single-player game, that does not mean the social aspect of crypto games is not present while you are looking for gold stars. Since the game has a live chat feature, you will have the opportunity to communicate with other casino players who have also chosen to play Mines.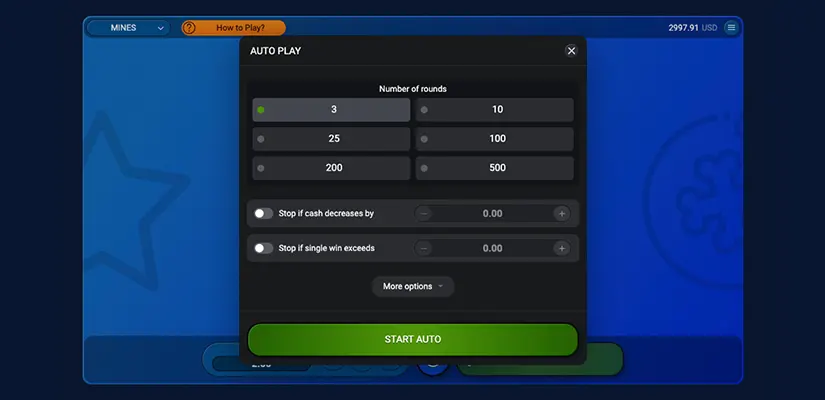 While the chat feature provides a cool way to connect to other people enjoying the same game that you do, it is also an essential part of winning free bets. Thanks to the Rain Promo tool, you might see a streak of free bets given to random players in the chat. This is often done to encourage more activity among the chat community as players must claim free bets when they see them posted in the chat.
As you can see, although Mines is a single-player game, it offers the chance to share your experience and even enjoy special rewards for being a part of the chat community of Mines.
Top 10 Crypto Casinos to Play Crypto Mines
Ask a Question. Get an Answer.
Have a question about this topic? Ask an expert at info@supercasinosites.com
Find the answers of questions people asked so far:
Dan
Judith
Does using the Open Randomly option in Mines guarantee more successful betting sessions?
While Mines offers players the option to let the game randomly open a certain number of tiles, this does not mean that you will enjoy winning rounds more frequently. Since the tiles the game's mechanics reveal are always random, there is still no way to avoid bombs across the game's grid. That said, if you do not feel like making multiple decisions on each betting round, you can use the Open Randomly option to instantly reveal a specific number of tiles. The chances of opening only stars will still depend solely on your luck and the randomness of this crypto game. If you want to make sure that this option offers fair results every time, you can still verify each outcome's fairness via the provably fair feature.
Dan
Dolores
Is there a correct strategy to play Mines and earn a decent return?
There are various Mines strategies you can find online and explore their effectiveness. Typically, players who have enjoyed success with certain patterns would recommend going for a certain number of mines and tiles for all betting rounds of your gaming sessions. Despite the betting pattern and bet size progression you choose to utilize, you should keep in mind that every result in Mines is free of any bias and you cannot correctly predict which tiles will reveal mines on each betting round. That is why, we can recommend trying some strategies but avoid relying solely on them when you play Mines.
Dan
Caleb
Is there a fruitful betting system I can use when choosing my bet size while playing Crypto Mines?
Like other games based on provably fair technology, results in Crypto Mines depend for the most part on luck. That means that the bomb positions on every round are selected randomly and there is no way to predict their place. This is why there is no strategy you can use to increase your winning chances when playing Crypto Mines. That said, there is a strategy you might follow whenever you wish to minimize your losses and enjoy longer gaming sessions. You may find different betting systems used online, with most of them suggesting to cash out at a certain point if you happen to reveal a few stars. For instance, you can start with a certain bet amount, pick to play with four mines, and cash out as soon as you reveal four star symbols. If your betting round has been successful, you can add the win to your original stake size and decrease the number of mines to three. As soon as you open four stars, you should cash out again. You continue with this pattern until you reduce to a play with a single mine and a bet size equal to all of your previous wins.