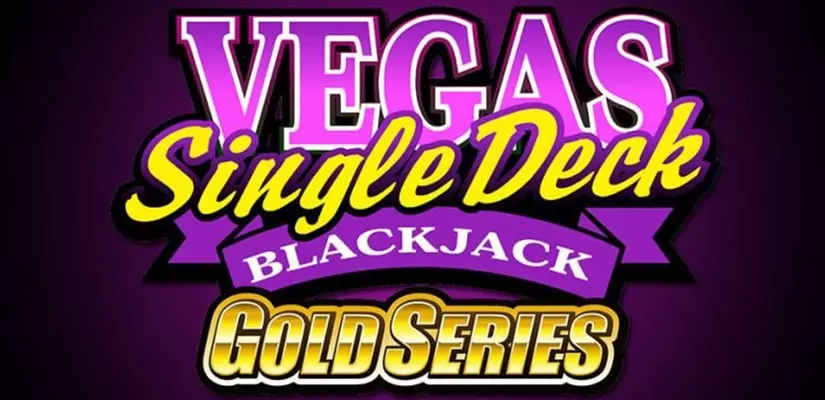 Vegas Single Deck Blackjack gives you the opportunity to experience gaming in Vegas without the need to leave your desk. This virtual blackjack game comes to us courtesy of none other than Microgaming. The name of the software provider alone should speak volumes about the game's quality. It comes with very player-friendly rules and also an incredibly low house edge of 0.31%, some of the lowest in the online gambling industry.
Vegas Single Deck Blackjack Summary
Software Provider
Microgaming
Decks
1
RTP
99.69%
Minimum Bet
$1.00
Maximum Bet
$200.00
Blackjack Payout
3:2
Dealer Stands
Hard 17
Exposure
1 card shown, 1 hole card
Surrender
No
Jackpot
No
Allowed Moves in Vegas Single Deck Blackjack
Playing Vegas Single Deck Blackjack is an excellent experience and there are several rules that will certainly work in your favor. You have the opportunity to double down on hard 9s, 10s and 11s, though this will not be available after a split. Speaking of which, you can only split once to form two hands. Whenever you split a pair of Aces, only one more card will be added to each hand and you will stand. In case you are dealt a 10-value card to split Aces, then the resulting hand will not be considered a blackjack, rather a standard 21-value hand.
Outside of that, you still have access to the regular old moves, i.e. hitting, standing, etc. The game does not go to out of the ordinary and presents you with a clear-cut blackjack experience. It is a solid variation of blackjack and one of the better ones that you can.
Specific Features of Vegas Single Deck Blackjack
Going on specific features, Vegas Single Deck Blackjack mostly includes them in the general gameplay. Without a doubt, the most important one is right in the name of the variation. This game is played with only a single 52-card deck, unlike the majority of other blackjack variations, which include anywhere between 4 and 8 decks. Furthermore, Vegas Single Deck Blackjack also comes with wide betting limits, allowing for wagers up to $200 per hand. A blackjack hand pays the full 3:2 which is the one you want, unlike other variations which only pay 6:5 or even money. Insurance is offered whenever the dealer draws an Ace as their opening card and it is worth half the original bet value. If the dealer scores a blackjack, the insurance pays 2:1, allowing you to recoup the full cost of your bet.
Outside of gameplay features, Vegas Single Deck Blackjack is quite simple to control. You can easily adjust your bet size by selecting the chips from the lower left corner of the screen and placing them in the correct zone. You can easily place the same bet as before by clicking the Rebet button.
Verdict
Overall, Vegas Single Deck Blackjack is a great blackjack variation and one that you should seriously consider having a go at it. It is one of the fairest versions of the game out there and the favorable rules will mean that you have a great time.