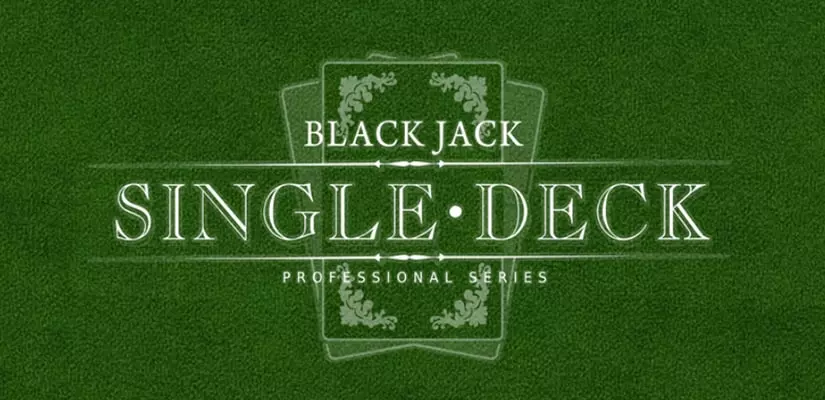 NetEnt is without a doubt one of the most beloved software providers in the online gambling industry. The Swedish company has developed hundreds of titles over the years, ranging from slots, table games, progressive slots and even started its own live dealer streaming studio. Out of the plethora of NetEnt titles out there, we would like to bring to your attention one of the best table games available in the online casino scene. Single Deck Blackjack is one of NetEnt's most played titles and the focus of our review here.
Single Deck Blackjack Summary
Software Provider
NetEnt
Number of Decks
1
RTP
99.60%
Minimum Bet
$1.00
Maximum Bet
$50
Blackjack Payout
3:2
Dealer Stands
Hard 17
Exposure
1 card shown, 1 hole card
Surrender
No
Jackpot
No
Allowed Moves in Single Deck Blackjack
When it comes to playing Single Deck Blackjack you will find that it does not take any extraordinary knowledge of the genre. If you are already familiar with the standard blackjack moves, you will feel right at home. Aside from the typical hit and stand moves, you also have the opportunity to double down on any hand valued at 10 or 11. Splitting is also available when you are dealt two cards with identical value. When you split Aces, you will be dealt one more card and then stand. Moreover, if you get a 10-value card and Ace after a split, that hand will count for 21, rather than blackjack.
Insurance is also offered whenever the dealer's first card is an Ace. This side bet is worth half of your original one and it will pay 2:1 if the dealer scores a blackjack. If successful, you will win back the full value of your original bet, keeping your net total the same.
Specific Features of Single Deck Blackjack
Single Deck Blackjack is a great game for a variety of reasons. First and foremost, it is played with a single 52-card deck, where most blackjack variations out there use anywhere between 4 and 8 decks. This greatly pushes the odds in your favor and also gives you the opportunity to make better predictions about what card could be dealt next. It is the defining feature of the game and one that you will certainly appreciate.
Additionally, Single Deck Blackjack also includes some other gameplay features. For one, the dealer has to hit a soft 17 and stand on a hard one. Normal hands will pay the standard even money, however, if you score an Ace and a 10-value card, you will hit a blackjack and receive 3:2. In case of a tie, your bet will be returned and a new hand will be dealt.
Something interesting about Single Deck Blackjack by NetEnt is that this game is available in several different versions. There is the standard game and you may also find Low- and High-Limit versions at online casinos you frequent. This is not always the case, but it happens often enough that you should be aware of it.
Verdict
When all is said and done, you will find that Single Deck Blackjack is certainly worth your time and money. NetEnt has given us some great games in the past but few can stand toe to toe with Single Deck Blackjack. Not only is this game fun and enjoyable, but also has some of the best odds, featuring a house edge of less than 0.40%.