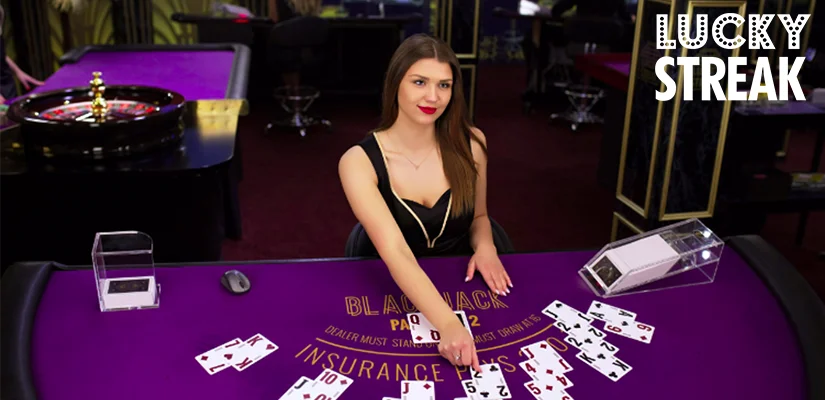 LuckyStreak is a supplier operating mainly in the sphere of premium live casino solutions, one of which is Live Blackjack. It is preferred by an ever-growing number of players, who fancy the online version of the game of twenty-one, but nevertheless crave the unique atmosphere of land-based casinos.
This live dealer game allows players to occupy up to three different seats at the table and take their chances against the dealer. Some alluring side bets and additional betting options intensify the game's popularity. Bet values tend to vary across the different tables, with minimum amounts of $10 and maximum amounts reaching $40,000.
Live Blackjack Summary
Software Provider
LuckyStreak
Number of Decks
8
RTP
99.39%
Minimum Bet
Varies across tables
Maximum Bet
Varies across tables
Blackjack Payout
3:2
Dealer Stands
Stands on 17
Exposure
1 Exposed Card
Surrender
N/A
Jackpot
N/A
Allowed Moves in Live Blackjack
The RTP of Live Blackjack stands at 99.39% and the game utilizes a total of 8 decks. Much like thе standard variation, the game's main goal is to score a result that is higher than the dealer's but does not exceed 21. The winning hand of Blackjack has a payout of 3:2 while the winning hand of 21 or less pays at a rate of 1:1. Players are permitted to double down on any two cards and split any 10 value cards.
All of the players who are seated at the table and the dealer receive two cards, as both of the players' cards are dealt face up, while only one of the dealer's cards is exposed. If the dealer's up card is an Ace, players are entitled to opt for Insurance. This involves placing an extra side bet whose value is equivalent to half the initial Blackjack bet. In case the outcome is Dealer Blackjack, players qualify for a payout of x2 the Insurance bet. The other alternative, however, leads to losing the insurance bet.
The dealer asks players how they intend to play their hands. Should the player's hand be less than 21, they can opt for a Hit, in order to receive an extra card or two. Once players are happy with the value of their hand, they select the Stand move.
LuckyStreak offers two options in cases when the dealer must take an extra card when their hand equals 16 or less. The first one is to stand on all hands of 17 or more and the second one is to hit on soft 17.
Similar to the standard game's rules, Live Blackjack by LuckyStreak allows players to split cards of equal value into two separate hands, but this can be done only once per round. Players are supposed to place a bet on the second hand resulting from the split.
Doubling down is done via the 2xDouble button which results in amplifying the player's bet x2. This move is predominantly utilized when the player's first two cards have a value equal to 9, 10, or 11, and the chances of getting a hand that is greater than the dealer's are magnified by a third card.
Specific Features of Live Blackjack
LuckyStreak has developed the pre-decision buttons, in order to ensure quicker gameplay for players who enjoy fast-paced action. Live blackjack fans are not obliged to wait their turn in order to come up with a decision on their next move.
Live Blackjack has another special feature – the game statistics. It is exclusively useful for players who need to explore their options in respect of who to bet behind. LuckyStreak offers a neat graphical visualization of the top players on the table thus helping you to make the right decision. The Statistics feature is not available on mobile devices.
The Bet Behind feature is a great opportunity to amplify your winnings, allowing you to bet on a hand that is dealt to another player. The Bet Behind wagers have the same payout rates as the regular ones, and their outcome is shared with the other player. Using this feature is not dependent on whether you are seated at the table. You can opt for it as long as the Bet Behind field is activated.
Live Blackjack offers a side bet, known as 21+3, whereby players wager on whether their first two cards and the dealer's up card would yield one of the following combinations – straight flush, 3 of a kind, straight, or flush. Each of these combinations pays at a rate of 9:1.
Another side bet is the Perfect Pair, which involves getting a hand of two suited cards of the same value, and its payout is quite a rewarding one – 25:1. Colored pairs pay at a rate of 12:1, while mixed pairs deliver winnings of 6:1.
Apart from the specific features and side bets of Live Blackjack, it is also worth mentioning that LuckyStreak has developed a live-chat functionality. It is a very convenient channel to get in contact with the friendly and knowledgeable dealers. There is also the option to tip them.
Our Verdict
Overall, Live Blackjack by LuckyStreak provides fans of the game with an unparalleled feeling of being in a land-based casino. No matter what device players utilize in order to place wagers, they will certainly enjoy the dynamic of the game, the premium streaming, as well as the various options for thrilling side bets.