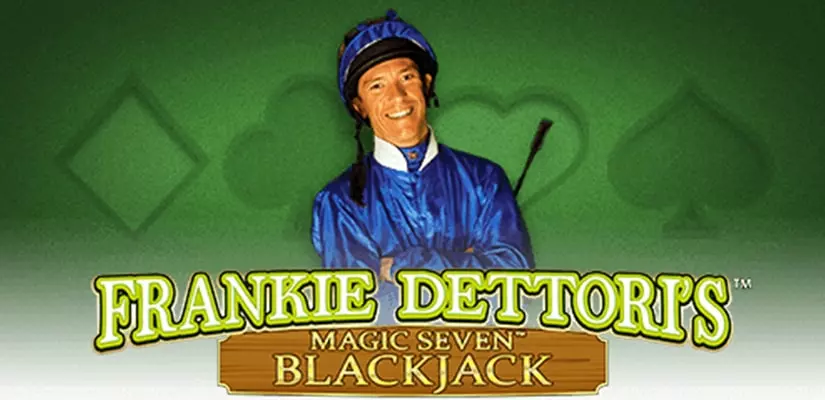 Released a few years ago, Frankie Dettori's Magic Seven Blackjack is one of the most popular titles in Playtech's line of slots and casino games inspired by the legendary jockey Frankie Dettori. After launching a few Detorri-dedicated slots, the company decided to create a virtual blackjack with a nice horse racing theme and a massive jackpot of 7,777 times the stake.
The game is played with 6 decks of cards and under the standard American blackjack rules. It uses the typical hole card – this means that the dealer's second hand is face-down and hidden from the player. In case it is an Ace or a 10-value card, the dealer peeks for blackjack. In addition, the dealer always draws to 16 and must stand on all 17's (including soft 17's).
The aim is, of course, to beat the dealer by getting a hand that is as close to 21 as possible without busting. This variation of blackjack allows players to bet on three hands simultaneously but more importantly, it introduces several special payouts, including a jackpot of 7,777 times the bet size. These special payouts are only unlocked after placing a side bet, however.
Frankie Dettori's Magic Seven Blackjack Summary
Software Provider
Playtech
Number of Decks
6
RTP
98.49% – 99.58%
Min Bet
$0.01
Max Bet
$10,000
Blackjack Payout
3:2
Dealer Stand
All 17's
Exposure
1 Exposed/1 Hidden
Surrender
No
Jackpot
7,777x bet
Allowed Moves in Frankie Dettori's Magic Seven Blackjack
Players can play with 1, 2, or 3 hands against the dealer, placing three bets of the same size on all hands. After they have been dealt the initial two cards, they have several options – Hit, to take another card; Stand, to play refuse more cards; and to Double their bet if they believe they have a good chance of winning. Players can double on any two cards, including after a Split, but after they click the Double button, a third and final card is dealt to them. It is also important to know that when the Double option is chosen, both the base and the side bets are doubled.
When the two initial cards are of the same value, players can choose to divide them with the Split button. If they do, they will receive an additional card to each of the new hands. However, only 1 split per round is allowed and only 1 card can be dealt to split Aces. When the split hand is an Ace and a 10-value card, it will be counted as 21 and not blackjack.
Another option for players appears when the dealer's face-up card is an Ace – they are given the chance to cut their losses in half in case the dealer has a blackjack. The new button that is displayed in this scenario is for Insurance and it functions as an independent side bet equal to exactly half of the player's original bet. The Insurance bet wins if the dealer gets blackjack and pays 2:1. It loses in all other instances.
Specific Features of Frankie Dettori's Magic Seven Blackjack
Playtech's Frankie Dettori's Magic Seven Blackjack is a fast-paced, nicely designed variation of traditional blackjack but it comes with one distinctive feature – the great range of special payouts that are offered. They work in a rather simple, straightforward way. When the player places the Magic Seven Side Bet, which is equal in size to the original bet, an additional game is unlocked and players start collecting Trophies to win a payout even if their original bet is not successful.
The Trophies may appear randomly in the top right corner of the cards that are being dealt initially on the table – on players' cards and in the dealer's hand, as well. To win a payout, players need to collect at least 2 Trophies in a single round or in several consecutive rounds. Getting only 1 Trophy qualifies you for the next rounds with Trophies but does not bring a payout. The number of Trophies can be easily tracked as little Trophy icons displayed around the side bet betting section on the table will be lit.
Up to 7 Trophies can be collected and the more you have, the higher the payout. Remember that these Trophies need to appear in consecutive rounds – if the initial cards in any following round have no Trophies, this side bet game ends and the respective payout is received by the player. The jackpot of 7,777 times the bet is granted when players collect 7 Trophies in only 2 rounds in a row. Here are all special payouts for the Magic Seven Side Bet:
7 Trophies in 2 Rounds – 7,777:1
7 Trophies in a Row – 70:1
6 Trophies in a Row – 24:1
5 Trophies in a Row – 14:1
4 Trophies in a Row – 7:1
3 Trophies in a Row – 1:1
2 Trophies in a Row – Push
1 Trophy – Qualifies
In addition, this game features the so-called 10-Card Charlie, according to which players who have 10 cards without going bust always win. There is one exception – when the dealer has blackjack, the player loses.
Verdict
Overall, this is one of the most interesting blackjack variations available in online casinos. Players can choose the table limits before starting the game, so they can bet from $0.01 to $10,000 per round. The average expected return is 99.58% but with the presence of the side bet and the several different special payouts, the theoretical RTP for the Magic Seven Side Bet is 98.49%, which is actually quite high for a side bet.