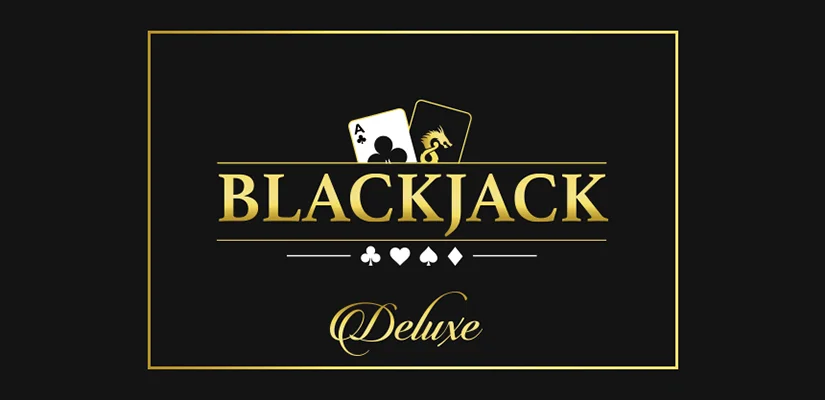 Blackjack Deluxe is an example of what happens when you combine the new with the old by taking the best of both worlds. This game strikes the perfect balance between the simplicity of modern contemporary design and the elegant shapes associated with blackjack. The feeling of luxury is further enhanced by the classy background music and the muted black and hazelnut color palette.
As for the gameplay, classic seems to be a running theme for this title. The developer has not attempted to reinvent the wheel but has, instead, focused on delivering the vintage blackjack experience in an intuitive and modern atmosphere with the utmost attention to detail and quality.
Given that this game is courtesy of none other than DragonGaming, a renowned developer of gambling games with nearly two decades of experience in the industry, it is not difficult to see why this title does not fail to impress.
Blackjack Deluxe Summary
Provider
DragonGaming
Number of Decks
8
RTP
99.50%
Minimum Bet
$1.00
Maximum Bet
$500
Blackjack Payout
3:2
Dealer Stands
Dealer stands on all 17s
Exposure
One card revealed, one card face down
Surrender
No
Jackpot
N/A
Allowed moves in Blackjack Deluxe
All in all, the game loop of BlackJack Deluxe is more or less the same as what you will come across in a traditional blackjack game. The title utilizes 8 decks, and you are able to make typical moves such as hit, stand, split and double down. The way they work will be familiar to experienced blackjack players.
Splitting involves separating one hand into two when you have 2 cards of the same value, and you are free to hit as many times as you would like on either hand provided the cards are not Aces. With Aces, you automatically receive one card on both Aces and cannot hit to draw more cards. Furthermore, you cannot split a hand that has already been split. You can also double down on a split hand. Also, if the dealer and the player have the same total between 17 and 21, this is known as a push.
Apart from the aforementioned moves, you do also have some extra options before the hands are dealt, namely Rebet, Rebet & Deal, and Double & Deal.
The dealer can hit provided he has a hand of 16 or below, while hard and soft 17 will force the dealer to stand.
In addition, there is also one more rule which is implemented in Blackjack Deluxe in a unique way. Namely, double down is available regardless of your hand's value, whilst in most online games, you can typically double down only on totals of 9, 10, or 11. This gives you a lot of freedom, although do keep in mind that there are times when it is a good idea to double down, and times when it is ill-advised.
Bonus Features of Blackjack Deluxe
Although Blackjack Deluxe does not feature bonus games or anything of the like, what it does offer is some convenient features that will make wagering easier. The features in question are namely the Rebet, the Rebet & Deal, and Double & Deal buttons.
The first one lets you bet the same amount of funds you had staked in your previous round. Rebet & Deal is essentially the same, but it also automatically deals the cards which saves you an extra click. Double & Deal is very similar to the previously noted feature, and the difference is that instead of wagering the amount of your previous stake, it wagers double that. You can also turn on fast deal, which, as suggested by the name, speeds up the card dealing animations.
Additionally, you also have an undo button within the betting menu which lets you change back to your previous bets, and you also have the ability to use the clear bet feature to get rid of all of your stakes.
The reason these buttons are so beneficial is not just convenience, however. Minimizing the number of clicks is standard practice in UI design since fewer clicks equal less stress on the user's hand.
In addition, if the dealer has an Ace you will be able to make an insurance bet. What this entails is that an amount equaling half your initial wager is now the insurance bet, an additional stake. If the dealer ends up with a blackjack, you win 2 to 1 on the insurance bet but you lose your initial stake. If the dealer does not have a blackjack, you lose the insurance bet but the game proceeds with your initial wager.
Verdict
Blackjack Deluxe is the perfect game for those who would rather avoid the bells and whistles associated with online products and would instead prefer a more authentic experience. This game most definitely scratches that itch, and it does so by offering a very well-designed and functional interface that not only plays perfectly but looks amazing to boot.