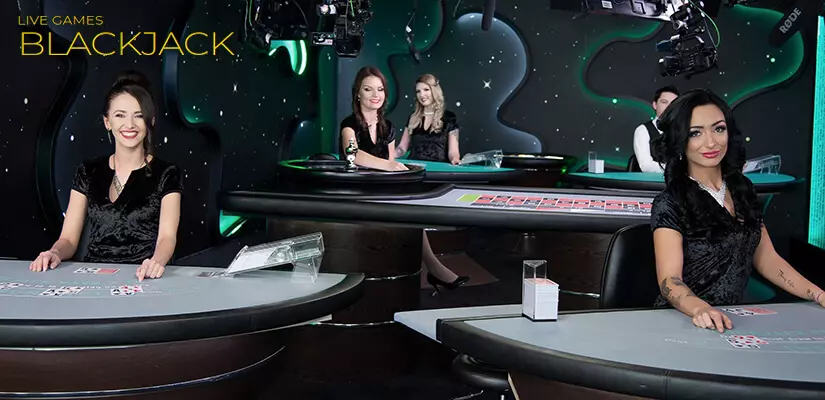 Vivo Gaming is a software provider that specializes in the creation of live casino solutions, and its tables are frequented by a staggering number of players. Its rendition of blackjack has grown to become a fan-favorite as it is preferred by players who are more into the pure action the card game offers.
The decks that are utilized in the game are a total of eight, and players will be permitted to double down and resplit.
The game is run by professional dealers, and the feeling players will enjoy will make them forget that they are placing their wagers over the Internet. This is achieved through the usage of multiple camera views and the high-end quality of the streaming. Thanks to the adjustable options, players will get to enjoy an experience that is cut out for them.
Blackjack Summary
Provider
Vivo Gaming
Number of Decks
8
RTP
99.65%
Minimum Bet
Varies across casinos
Maximum Bet
Varies across casinos
Blackjack Payout
3 to 2
Dealer Stands
Stands on all 17s
Exposure
1 exposed and 1 hole card
Surrender
N/A
Jackpot
N/A
Allowed Moves in Blackjack
Vivo Gaming's take on the game of Twenty-One is quite straightforward as there are hardly any twists to the rules and the allowed moves. The same applies to the objective of the game as what players will be up against is forming a hand that is stronger than the one of the dealer, without exceeding 21. In this game, the payout offered for a blackjack is 3 to 2.
Yet, if players want to make the most out of their betting session, they should certainly get better acquainted with the options they are presented with.
As it was mentioned already, in Vivo Gaming's Blackjack, a total of eight decks of cards will be thrown into the mix. In this variant of the classic card game, the dealer will be required to stand on all 17s and draw to 16.
There is nothing extraordinary when it comes to the options players are presented with when their cards are dealt as they can hit, split, stand, or double down, and the latter move is available on just about any card total.
Buying insurance is possible as well, on condition that the face-up card of the dealer is an Ace, and it pays at the rate of 2 to 1.
This Blackjack variant does not go without any quirks as depending on their preferences, players can opt for two side bets, more specifically, 21+3 and Perfect Pairs.
Specific Features of Blackjack
As you get down to playing Vivo Gaming's Blackjack, it will hit you that it has an exceptionally user-oriented interface.
This variant of the classic card game is undoubtedly here to stay as what players will get to enjoy is crystal-clear HD streaming, which makes it exceptionally close to the real thing. In spite of the fact that players will not be allowed to switch the camera view, this does not mean that they will be prevented from getting an authentic and smooth experience.
The option to switch to a full-screen view will be available solely to players who have loaded the game on their desktop device. Mobile users can try their hand at this Blackjack variant, and what is even better is that they can switch between portrait and landscape mode.
Interestingly enough, Vivo Gaming has seen to it that this blackjack variant will be accessible to as many avid casino fans as possible as its interface is available in 26 different languages. In addition to this, the game is equipped with the back-behind feature, which means that the blackjack table can accommodate an unlimited number of players at the same time.
Much like the other live games from the portfolio of Vivo Gaming, this blackjack variant is also furnished with the report issue feature. Thanks to it, players will be able to take a screenshot, so that the help desk could aid them to solve the problem. The communication with the dealer is possible through the chat box that is positioned on the left-hand side of players' screens.
Finally, old hands at playing blackjack might be pleased with the opportunity to bet on up to three hands at the same time.
Our Verdict
Players are unlikely to get bored while betting on Vivo Gaming's Blackjack and its appeal can be ascribed mainly to the straightforwardness of the rules. In spite of the fact that its special features are not that prolific, lovers of the game of Twenty-One might appreciate the fast-paced action they will be provided with, no matter the device they are using in order to place their wagers.