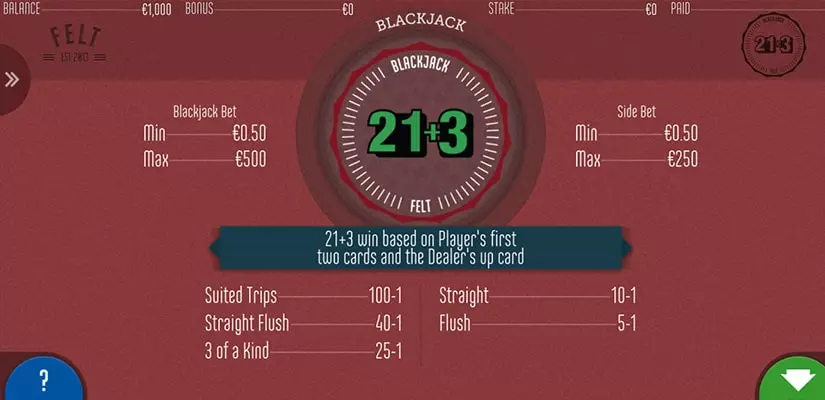 Get 350% up to $3500 Bonus
For new players at Cherry Gold Casino
Casino software behemoth Playtech boasts a rich selection of live casino tables, with one of the most recent additions to the line-up being 21+3 Blackjack, which succeeds in capturing the look and feel of the blackjack tables in sumptuous landbased casinos.
The most distinguishable trait of 21+3 Blackjack is a group of thrilling side wagers which can earn you up to 100x your stake. The Playtech developers have married two iconic card games as some of the side bets pay out when the player's two cards and the dealer's upcard form a qualifying three-card poker hand. Other than that, 21+3 Blackjack abides by the standard rules of the game, which you can check out below.
21+3 Blackjack Summary
Software Provider
Playtech
Deck Number
8 decks
RTP
99.46% for the main game, 95.90% for the Perfect Pairs bet, and 96.30% for the 21+3 wagers
Minimum Bet
Varies depending on the table and the Playtech casino
Maximum Bet
Varies depending on the table and the Playtech casino
Blackjack Payout
3 to 2
Dealer Standing Rule
Stands on all 17s
Exposure
Classic
Surrender
N/A
Jackpot
N/A
Allowed Moves in 21+3 Blackjack
Playtech's 21+3 Blackjack plays like conventional versions of the game where players have a choice from the typical moves like hitting, standing, splitting, doubling, and insurance with a payout of 2 to 1. The live tables can accommodate up to seven main players. Betting behind is possible when there are no vacant seats left. The dealer draws to 16 and stands on totals of 17. The payouts for blackjacks are 3 to 2 while those for the other winning hands are even money.
When players are dealt two cards of identical value, they may split the pair into two separate hands by posting a second wager equal to their initial bet. They can draw as many cards as they like to each split card.
An exception is made for pairs of aces which cannot be hit after splitting. Instead, the live dealer would draw only one card to each ace, after which the hand automatically stands. As usual, a split ace and a ten-value card do not count as a blackjack. The hand is considered 21 and pays 1 to 1 instead of 3 to 2. Resplitting is not permitted on the live 21+3 Blackjack tables by Playtech.
If players think they can win by drawing a third card after the initial deal, they have the option to double their bets. This is possible on any two-card total and so is doubling following a split. If you double when the dealer's exposed card is an Ace and they get a blackjack, you lose both your original bet and the double down bet. However, if the dealer's upcard has a value of ten and they catch an ace for a blackjack, you lose only your original stake while the double down bet is reimbursed.
When you bet behind, you automatically follow the playing decisions of the main player unless they decide to split a pair or double and your bankroll is insufficient to do the same. In this instance, you hit or stand when the main player has doubled or follow the right hand of the main player if they have split a pair. Another important condition to keep in mind is that players who bet behind cannot insure their hands against dealer blackjacks.
Specific Features of 21+3 Blackjack
Playtech's live 21+3 Blackjack tables boast expertly designed interface, which features a set of gaming control buttons that enable players to open the chat facility, change the camera angle, view their betting sessions' history and quickly re-top their balance. Players can also tackle the audio/video settings, enter the game as "watchers" or join the waiting list until a seat is vacated. Of course, playing behind seated players is also an option.
With that aside, the most distinctive features of Playtech's 21+3 Blackjack tables are the two groups of side bets that give you the opportunity to score extra large payouts. The first category consists of the Perfect Pair side bets. These wagers earn you payouts of 6 to 1 for red/black pairs, 12 to 1 for pairs of the same color but of different suits, and 25 to 1 for perfect pairs consisting of two cards of the same suit.
The Playtech developers have also succeeded in bringing the thrills of poker to the live blackjack tables by introducing a range of side bets that award additional payouts when the dealer's upcard and the players' first two cards combine into a poker hand.
You qualify for a payout of 5 to 1 with flushes when the three cards are of the same suit. The other qualifying poker hands from the 21+3 group of side bets include straights (10 to 1), three of a kind (30 to 1), a straight flush (40 to 1), and a suited three of a kind (100 to 1).
It is important to clarify that these groups of side bets are available across many live tables by Playtech. Some of these live games play in accordance with the European rules, i.e. no hole cards are used since the dealer receives only one exposed card at the start of the round.
Most of the 21+3 live blackjack tables award even money to players with non-busted hands consisting of ten cards under the 10-card Charlie rule.
Verdict
The 21+3 blackjack tables are an interesting addition to Playtech's suite of live games. Here you have more ways to win a hefty payout but we warn you not to overdo it with these side bets, as exciting as they are, since they have a lower theoretical return to player. Other than that, 21+3 blackjack yields quite a decent long-term returns of 99.46% if you are playing the main game without posting the side bets.