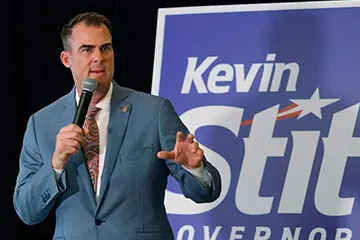 This Thursday, Oklahoma Governor, Kevin Stitt rolled out his plan to bring legalized sports betting to the Sooner State. Thus, wagering at retail and online venues can soon become a reality for Oklahomans.
In a press release published on November 2, 2023, Stitt reiterated his intentions to bring betting into the state the right way, and that "this plan does just that". Above all, the Governor's office would promote rules and regulations that consider closely "transparency, accountability, and consumer protection". Stitt reminded that 35 states have already legalized sports betting and that it would generate fresh revenue for the state coffers. Oklahoma's residents would be able to place mobile bets from across the state.
According to the Governor's plan, retail wagering will be operated by Indian tribes conforming to a State-Tribal Compact, with their revenue being taxed at 15%. Mobile wagering at licensed operators will be allowed as well, with their revenue taxed at 20%. Applicants will be supposed to pay an initial $500,000 licensing fee plus an annual licensing fee amounting to $100,000.
There will be specific limitations, though. They will be concerned with wagering on the individual performance of student-athletes, referees, and coaches. Additionally, sports betting enthusiasts will be forbidden to place bets on player injuries, as well as prop bets on collegiate competition. Changes to these limitations might be applicable, depending on NCCA and athletic conference standards and regulations.
As sports betting legislation in the state picks up speed, further rules and regulations will be implemented, which will be equally applicable to retail and mobile betting.
Governor Kevin Stitt Has Been a Proponent for Legalized and Properly Regulated Sports Betting Market in Oklahoma
Governor Stitt is widely regarded as a sports betting proponent, as he has repeatedly expressed his support for a legalized and properly regulated industry, governed by the principles of transparency and safe gambling practices. Over the last two years, Oklahoma lawmakers have attempted to legalize the sector. However, none of the bills was signed into law in 2023.
Ken Luttrell, a Member of the Oklahoma House of Representatives, introduced bill HB 1027 in 2023, which was similar to the one he filed in 2022. According to the bill, state tribes would be allowed to provide retail and online betting services.
The bill introduced sliding scale fees that would be adjusted depending on the tribes' monthly net wins and reset at the beginning of each new month. Monthly net wins up to $5 million would be subjected to a 4% fee. The next $5 million would be levied with a 5% fee applicable to the adjusted gross revenues. All ensuing adjusted gross revenues would entail a 6% fee. This bill did not move to the Senate though.