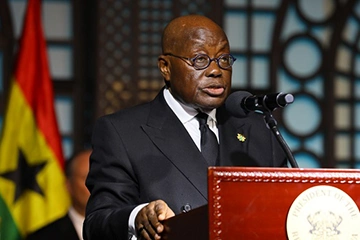 In a recent interview, Hassan Ayariga, founder of the All People's Congress (APC), and one of Ghana's presidential candidates, pledged to ban sports betting in the country, if elected in the forthcoming Ghanaian general elections in 2024.
When asked about his attitude toward sports betting, he condemned the practice and voiced his dedication to outlawing it, if he emerged victorious from the presidential race. Instead of letting Ghana's young population gamble, he would direct his attention toward utilizing their capabilities to their fullest potential. In particular, he stated that technological innovations should be prioritized to drive the country's economic growth.
Over the last couple of years, sports betting has become one of Ghana's most popular forms of entertainment, with a surge in the number of gambling operators establishing a foothold in the West African country. Consequently, gambling's ever-growing allure has provoked extensive discussions in Ghanaian society. While proponents argue that the practice can be a legitimate source of income generating revenue for the government as well, opponents are concerned about its negative impact on young people, especially gambling addictions.
Ghana Revenue Authority Implements 10% Withholding Tax on Gambling
The Ghana Revenue Authority (GRA) implemented a 10% withholding tax on all sports betting activities, games of chance, and lottery products, applicable from August 15, 2023. This has come as a result of gambling's rising popularity over the last couple of years. Thus, the revenue authority of the second-most populous country in West Africa plans to generate GH¢1.2 billion at the outset of implementation. Expectations past the initial stage reach as much as GH¢3 billion in taxation revenue. The recent governmental measures have provoked collective disfavor, especially among the young population.
According to Hassan Ayariga, Ghana's young population was drawn to gambling, as it perceived it as a source of income, considering the high unemployment rate in the country. He highlighted that under his rule, sports betting, games of chance, and lotteries would become illegal since they promoted laziness in young people. The presidential contender reaffirmed his stance that he would need their potential to design new technologies and boost the country's development. Ayariga's strong disapproval of gambling is part of his agenda for Ghana's future progress and its younger generation.
Other political figures in Ghana have also voiced their disapproval of gambling and sports betting. They shared Ayariga's opinion that the practice promotes idleness among the young population. Kennedy Agyapong is among the politicians who have expressed their support for the recent implementation of the 10% betting tax, adding that "betting is not anything good" and that winnings from it are temporary. Instead of relying on their luck, he encouraged the young population to harness their potential into more significant avenues of life.