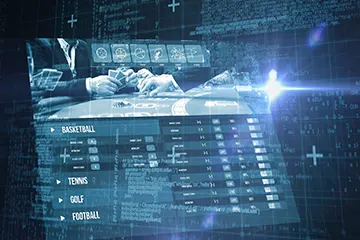 The results from a new survey conducted by Prevention Insights in 2022, a center specializing in researching addictive behavior, reveal that 89% of adults in Indiana have engaged in some form of gambling in the past year, which is 1% higher than the national average. Compared to 2021, the number of Hoosier adults involved in gambling activities increased by 5%.
In 2022, 3% of the inquired Hoosiers reported experiencing gambling problems, but only 0.6% said they sought help. According to the study, 38% of all respondents were aware of the existence of the Indiana Problem Gambling Referral Line – a toll-free hotline for people who need help to stop gambling.
Figures reveal that the lottery is the most popular form of gambling in Indiana. Of all people who participated in the survey, 2 out of 3, or 66.1%, played the lottery in the past year. The study found that 55% of the respondents visited a casino to gamble in the past year, of which 16% played slot machines. Hoosier adults with an income of over $100k tend to wager on sports. The study, however, notes that everyone who participates in gambling activities may develop gambling problems, regardless of their income.
Since online and in-person casino gambling and sports betting are legal in the Hoosier state, problem gambling is an important public health concern. That is why Indiana uses a portion of its gambling revenue to support various responsible gambling programs. State residents can play the lottery when they turn 18, but the legal age to play casino games is 21.
What are the Goals of the Prevention Insights' Research?
Survey findings will be used to help experts to create prevention and awareness programs aimed at at-risk gamblers. The survey examines adult gambling behaviors in Indiana and aims to evaluate the prevalence of problem gambling behaviors and what effect gambling has on the state and its residents. Among the goals of the study is to raise awareness of problem gambling resources and determine which are the most popular forms of gambling among Hoosiers.
The survey was conducted in November and December last year among Indiana residents aged 18 and older. The people who participated in the study were randomly selected, and the collected data was weighted to ensure a proportional representation of the state's adult population. Researchers from Prevention Insights revealed their plans to conduct such a survey every other year. The 2022 research was funded by the Family and Social Services Administration, Division of Mental Health Addiction.
Mary Lay, operations director of Prevention Insights and program manager of the Indiana Problem Gambling Awareness Program at Indiana University, said the figures are alarming, especially when considering that the number of younger adults who gamble grows steadily. Ms. Lay added that online gambling and sports betting allows everyone to wager, even on the go. She explained that gambling disorders are very insidious because people do not see the consequences of their gambling habits immediately.