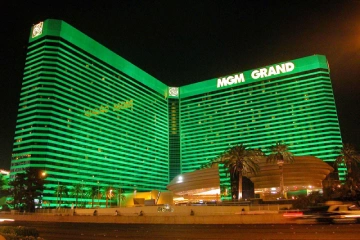 Two of the biggest casino resorts on the Las Vegas Strip – including MGM Resorts and Caesars Entertainment – will keep room rates low even after the end of the Covid-19 pandemic, casino executives said at the recent J.P. Morgan Gaming, Lodging, Restaurant & Leisure Management Access Forum held on 7th March in Las Vegas. They explained that the Las Vegas Strip must remain an affordable tourist destination.
Las Vegas has recovered from the Covid-19 negative economic impacts relatively quickly. However, Caesars and MGM keep room rates below their usual average mainly due to the fact that the business conventions did not make the expected comeback in 2022, and many of the rooms remained empty.
Business Conventions to Make a Significant Comeback in 2024
Keeping the room rates low is the business strategy for many hotel owners on the Las Vegas Strip. According to Corey Sanders, Chief Operating Officer of MGM Resorts, this trend will continue in 2023. He shared that the company has decided to host less business meetings during weekends. Mr. Sanders revealed that MGM's convention business on the Strip is expected to make a significant comeback in 2024 and 2025.
The beginning of the Covid-19 pandemic resulted in the closure of all entertainment properties on the Las Vegas Strip. By now, most businesses have recovered almost completely from the negative consequences they suffered due to the lengthy closures. For some of them, however, the recovery process took a little longer than expected.
Two of the biggest casino resorts located on the Strip – Caesars Entertainment and MGM Resorts International – had to create their post-pandemic business strategies without being able to rely on previous data regarding the number of convention attendees. During the Covid-19 pandemic, some companies realized they should spend less on exhibiting and attending shows.
Prices on the Strip Rise at a Slow Pace
In 2022, the most influential tech event in the world, Consumer Electronics Show (CES), witnessed a dramatic drop in attendants due to the increased number of Covid-19 cases. Even now, vulnerable people avoid traveling, which makes it difficult for businesses such as MGM and Caesars to make their strategies. That is the main reason why companies on the Strip keep the prices low.
But the situation has started to improve gradually. According to experts, Caesars, MGM, and other businesses on the Strip may break pricing records during March Madness, the NFL Draft, and the Formula 1 race that will take place in November.
Although prices have started to rise and the number of business events has increased, Corey Sanders explained that the Las Vegas Strip will continue to be a favorite travel destination. Sanders elaborated that the traffic at Harry Reid International Airport in Las Vegas has increased significantly due to the low prices offered by some economy carriers. MGM Senior Vice President Sarah Rogers said that it is vital for the Strip to remain an affordable destination and added that MGM "still offers a relative value".