It seems that the odds of Joe Biden and Donald Trump going head-to-head for the 2024 U.S. presidential election are very high. But more than a dozen other men and women are currently running for president, with some having better chances than others.
For many, the choice always narrows down to whether the candidate is Republican or Democrat, while others carefully evaluate the different policies and visions presented in each campaign. But there is another factor when making the choice (one that is never discussed openly though) and it is the candidates' physical attractiveness, charm, and charisma. So, the team at SuperCasinoSites decided to assess the current presidential candidates by their looks alone since physical appearance is what often makes the first impression on voters.
To do this impartially, we utilized not one but three different beauty-evaluating AI tools, namely the Beauty Score Calculator, Pretty Scale, and Face Beauty Analysis Test. The results from this experiment are surprising, to say the least, with little-known Republican Ryan Binkley leading in terms of physical attractiveness.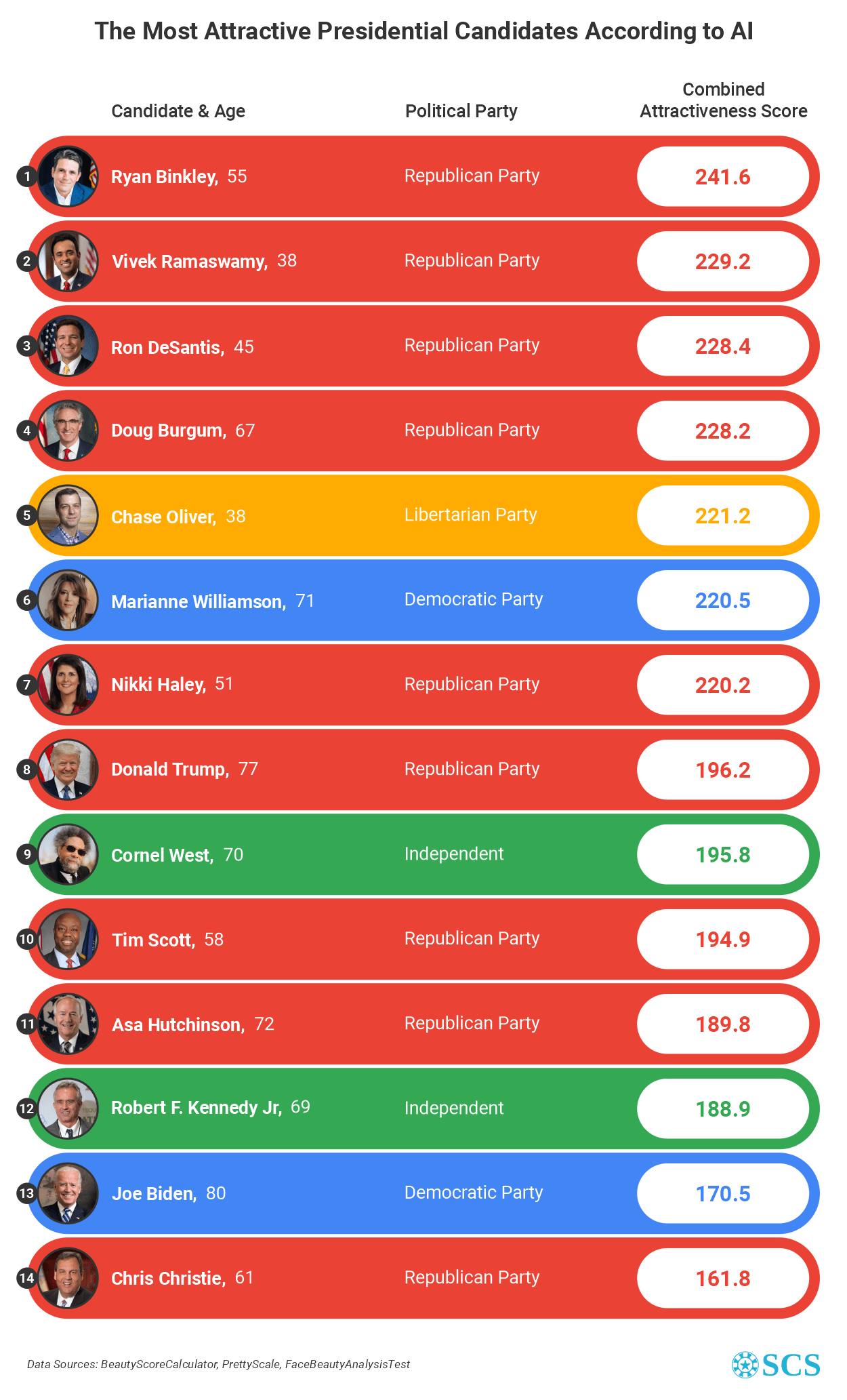 The Best Looking Presidential Candidates According to AI
The vast majority of attractiveness tests online rate people's faces based on symmetry and proportions. Oftentimes, the algorithms used in such AI tools are biased when it comes to race and age. In some cases, the AI is trained to predict attractiveness based on photos of real people who were rated by others – such as celebrities or users of dating apps. With that in mind, we should not consider such tests 100% accurate or reliable.
Still, based on three different attractiveness tests that give him a combined score of 241.6 points, Texas-based businessman Ryan Binkley ranks first when it comes to looks. Considering the average age of all 17 candidates we looked at is 62 years, his 55 years give him an obvious advantage. The Republican is also a co-founder and pastor at the Create Church, a "multiethnic, multigenerational church" in Richardson, Texas. Although he is the top-rated candidate by AI, his chances of winning the elections are pretty slim, with most bookmakers not even placing him among the top 20 favorites.
With a combined attractiveness score of 229.2, 38-year-old multi-millionaire Vivek Ramaswamy ranks second on our list. The biotech entrepreneur who runs for president as part of the Republican Party is the youngest candidate on this list, along with Chase Oliver, a 38-year-old Libertarian. Oliver, who ran for Georgia's U.S. Senate in 2022 in between his two day jobs, ranks 5th in terms of attractiveness with 221.2 points. However, both are considered outsiders for the presidential elections.
Interestingly, Florida Governor Ron DeSantis, who is seen as Donald Trump's biggest rival for the GOP nomination, is ranked as the third most attractive candidate by AI. DeSantis, 45, is described by one of the beauty evaluation tools as having a good face shape but poor facial symmetry. Still, his combined score of 228.4 is not bad at all. North Dakota Governor Doug Burgum, 67, follows closely in 4th position with 228.2 points.
The highest-ranked female candidate on the list is Marianne Williamson at 6th position with 220.5 points. The best-selling self-help author is also the highest positioned Democrat on the attractiveness ranking; her odds for the White House race are much worse, though, according to political analysts. With 220.2 points and described as having "good facial symmetry", 7th on the beauty list is Republican candidate Nikki Haley, the former governor of South Carolina. She is the second female candidate on this ranking and only 0.3 points behind Williamson in terms of attractiveness.
Where Do Joe Biden And Donald Trump Stand?
Looking at the 14 presidential candidates on our list, it is easy to notice that the ultimate White House race opponents, Biden and Trump, have one thing in common; their age. At 80, Joe Biden is already the oldest sitting American president. He entered office at age 78 and is the only American president to turn 80 while still in office. Should he be reelected next year, he would be 86 by the end of his second term.
His predecessor Donald Trump was 70 when he was sworn in; at the time, the oldest U.S. president to take an oath of office. If he were to win the 2024 elections, he would also turn 80 while in office. Interestingly, Donald Trump is 16 years above the 14 candidates' average age of 61 years. However, he ranks 8th on the attractiveness list with a combined score of 196.2.
Biden, on the other hand, is almost at the bottom of the ranking with only 170.5 points, giving him the 13th position. The only candidate ranked lower than him is Chris Christie, 61, who has a combined score of 161.8. For reference, the maximum score is 300 and the average score of all presidential candidates we looked at is 206.2 points.
Methodology
For this ranking, we took only those individuals who have officially declared they would be running for president and have at least a tiny chance of winning. Currently, there are 1,017 candidates who filed with the FEC to run for president; most are considered complete outsiders, however. We had to filter out several candidates such as progressive news show host Cenk Uygur. He recently launched his Democratic primary bid against Biden despite being born in Istanbul, which renders him unqualified for the presidency.
We have not included one of the Trump-Biden alternatives, California Gov. Gavin Newsom, who said multiple times that he would not be running for president. Other notable names not considered for this ranking were Michelle Obama, Hillary Clinton, Elizabeth Warren, and Gretchen Whitmer; despite speculations that they might join the White House race, none of them have announced their candidacies.
This left us with a total of 14 presidential candidates, 9 Republicans and 2 Democrats among them. We ran their photos through three different AI attractiveness assessment tools, namely the Beauty Score Calculator, Pretty Scale, and Face Beauty Analysis Test. Pretty Scale gives its results as percentages, while the other two instruments rate faces from 1 to 100. So, we combined the three on a wider scale where the minimum score is 3 and the maximum number of points you can get is 300.
Raw Data
The Most Attractive Presidential Candidates According to AI
Candidate
Political Party
Age
BeautyScoreCalculator Score
PrettyScale Score
FaceBeautyAnalysisTest Score
Combined Attractiveness Score
Ryan Binkley
Republican Party
55
64
81
96.6
241.6
Vivek Ramaswamy
Republican Party
38
77
66
86.2
229.2
Ron DeSantis
Republican Party
45
60
82
86.4
228.4
Doug Burgum
Republican Party
67
62
77
89.2
228.2
Chase Oliver
Libertarian Party
38
73
62
86.2
221.2
Marianne Williamson
Democratic Party
71
63
59
98.5
220.5
Nikki Haley
Republican Party
51
54
80
86.2
220.2
Donald Trump
Republican Party
77
33
64
99.2
196.2
Cornel West
Independent
70
31
79
85.8
195.8
Tim Scott
Republican Party
58
25
76
93.9
194.9
Asa Hutchinson
Republican Party
72
42
62
85.8
189.8
Robert F. Kennedy Jr
Independent
69
38
62
88.9
188.9
Joe Biden
Democratic Party
80
21
70
79.5
170.5
Chris Christie
Republican Party
61
17
49
95.8
161.8
Scale
1-100
1-100% (percentage turned into points)
1-100
3-300
Average
60.86
47.14
69.21
89.87
206.23