No one can argue Las Vegas is a city of many diversions, from ritzy shopping centers, fine dining restaurants, and kitschy casinos to burlesque shows and fine art museums. There are endless recreation opportunities here but the first question every visitor needs to address before even arriving is where they are staying.
The team behind SuperCasinoSites brings to your attention the highest-rated resorts in Vegas as ranked by Google reviewers. We sifted out the top spots visitors stayed at based on the score in their Google Business Profile. We only included locations, that had over 1,000 customer reviews and ordered them first by average score and then by number of reviews. That way if two locations had the same score, the one with more reviews would rank higher.
Bellagio Leaves the Competition in the Dust with over 88,800 5-Star Reviews
Google reviewers named MGM Resorts' Bellagio as the best place to stay while in Vegas with an average score of 4.7 out of 5 stars and a total of almost 114,000 ratings. Thanks to its excellent location, great customer service, and luxurious accommodations the Bellagio scores the highest average among all locations with over 1,000 reviews.
The Venetian, Wynn Las Vegas, Four Seasons, and Caesars Palace are the other upscale casino resorts that occupy the remaining spots on the top five list. Without further ado, here are the 5 best places to stay when visiting Las Vegas as ranked by Google reviewers.
Bellagio Resort & Casino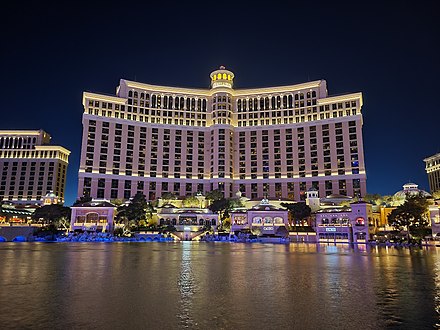 Number of Rooms: 3,950 hotel rooms and suites
Total Gaming Space: 14,500 m2
Amenities: Free wi-fi connection, swimming pools, spa and salon, air conditioning, fitness center, shopping centers, golf course, a sportsbook with a bar
Major Attractions: Dancing Fountains of Bellagio, conservatory, botanical gardens, Bellagio Gallery of Fine Art, Fiori di Como glass structure, O water show with Cirque du Soleil acrobats
Fine Dining Restaurants: Prime Steakhouse, Spago, Le Cirque, Picasso, Harvest, Jasmine, Buffet Bellagio
Located in the heart of the Las Vegas Strip, Bellagio is a Tuscany-inspired luxury casino resort where classical elegance meets modernity. This 3,950-room resort has plenty of amenities to offer, including fitness, spa, and luxury shopping centers, and a lavish gaming floor that stretches over 14,500 m2.
Droves of tourists flock in front of the hotel after nightfall to watch the famed Bellagio water show, one of the biggest free attractions in the city. Over a thousand illuminated fountains swing graciously in a massive artificial lake to the sounds of popular songs by Frank Sinatra, Elvis Presley, Celine Dion, and the Beatles.
Guests of the lavish resort can stroll through the luscious Botanical Gardens or satiate their appetite for fine dining in some of the world's best restaurants like Picasso and Le Cirque. Google reviewers frequently praise the Bellagio for its excellent location, accessibility, and entertainment shows like those performed by the skilled acrobats of Cirque du Soleil.
The Venetian Resort Las Vegas
Number of Rooms: 4,095 hotel rooms and suites
Total Gaming Space: 11,000 m2
Amenities: Swimming pools, luxury spa centers, fitness center, ballrooms, expo meeting rooms, car rental services, a floral shop, concierge services, cocktail lounges and bars
Major Attractions: The Grand Canal Shoppes, gondola rides, the Madame Tussauds Wax Museum, the Minus5º Ice Bar, the Atomic Saloon Show
Fine Dining Restaurants: Canaletto, Thomas Keller's Bouchon, Mott 32, Cut Steakhouse
The Venetian Las Vegas is the second highest-ranking resort in the entertainment capital of the world with a 4.7-star rating and over 76,000 5-star reviews. The 4,095-room resort forms one of the world's largest hotel complexes together with its adjacent twin, the Palazzo.
Lauded for its unique Renaissance atmosphere, this award-winning hotel has earned many prestigious accolades since it first opened doors to the sounds of trumpets and the flutter of white doves in 1999. MSN named it the Most Decadent Hotel in Nevada last year, while the Las Vegas Review Journal voted it the Best Strip Hotel four years in a row (2018, 2019, 2020, and 2021).
Tourists favor the property for its supersized suites, fine dining restaurants, high-end boutiques, and decant canals complete with serenading gondoliers. Visitors who drop by the Madame Tussauds Museum at the Venetian can mingle with the wax replicas of famed entertainers like Beyonce, Aaliyah, and Miley Cyrus.
Wynn Las Vegas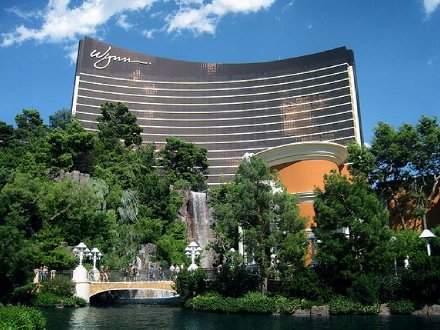 Number of Rooms: 2,716 hotel rooms and suites
Total Gaming Space: 17,600 m2
Amenities: Spas, salons, a barbershop, pools, a private cabana, wedding venues, fine dining restaurants, luxury shops and boutiques, bars and lounges, gaming floor, racebook, and sportsbook
Major Attractions: Wynn Golf Club, Wynn's Lake of Dreams, Wynn Esplanade
Fine Dining Restaurants: Sinatra, Casa Playa, Cipriani, Lakeside, Delilah, Mizumi, SW Steakhouse
Wynn Las Vegas is the third highest-ranking hotel in Sin City according to Google reviewers, earning a 4.7-star rating and 39,867 5-star reviews at the time of publication. Travel + Leisure readers share this high opinion as they voted it the number-one hotel in Las Vegas at the magazine's annual World's Best Awards in 2022.
Wynn Las Vegas and its adjacent twin tower Encore Las Vegas comprise more than 4,700 capacious suites, villas, and hotel rooms, along with spacious gaming floors, 21 signature restaurants, 11 bars, nightclubs, spas, and showrooms, among other leisure facilities. The Wynn Golf Club is the resort's crown jewel.
Four Seasons Luxury Hotel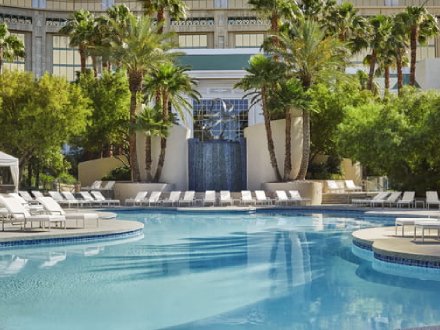 Number of Rooms: 343 guest rooms and 81 suites
Total Gaming Space: Non-gaming and non-smoking venue
Amenities: A health and wellness club, an award-winning spa center, lounges and bars, in-room dining, access to Mandalay Bay pools and casinos
Major Attractions: Guided hiking tours in the Red Rocks Canyon National Conservation Area, jeep excursions in the Mojave Desert, private helicopter rides above the Valley of Fire, climate-controlled poolside gaming at the Mandalay Bay
Restaurants: Veranda Restaurant with modern local cuisine and seasonal desserts
Reviewers describe the Four Seasons as a tranquil and family-friendly, yet very luxurious place to stay during a trip to Las Vegas. Visitors praise its customer-centric approach, quality spa and massage services, and relaxing atmosphere. It became the first hotel in Las Vegas to win the prestigious AAA Five Diamond Award, an accolade it has earned repeatedly since 1999 when it first opened doors.
It is worth mentioning this is the only non-gaming property on our list as Four Seasons lacks a dedicated gaming space for the time being. However, guests who fancy a flutter have unrestricted access to the Mandalay Bay casino and pools, among other amenities, as the Art Deco-inspired property is part of the massive complex of the same name.
Caesars Palace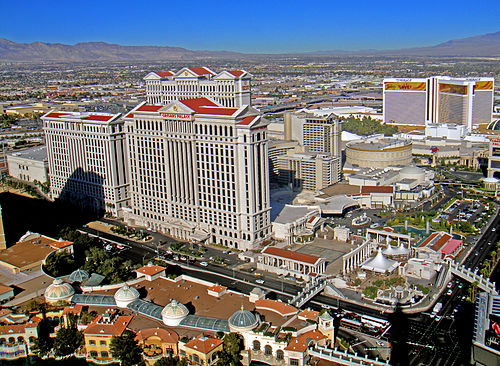 Number of Rooms: 3,960 guest rooms and suites
Total Gaming Space: 11,536 m2
Amenities: 10 bars and lounges, 22 restaurants, 7 pools, fitness center, spas, salons, electric vehicle charging, a retail sportsbook
Major Attractions: Rio Secco Golf Club, Cascata Golf Course, the Forum Shop, Vanderpump Cocktail Garden, the Caesars Palace Colosseum
Fine Dining Restaurants: Gordon Ramsay's Hell's Kitchen, Nobu, Amalfi, Mr Chow, Old Homestead Steakhouse, Restaurant Guy Savoy
Caesars Palace is the oldest entry on our list as it has been welcoming tourists since the mid-1960s. Google reviewers rated it as the fifth best resort to stay at in Las Vegas, assigning it a 4.7-star overall rating based on 109,295 reviews in total. As many as 78,692 reviewers, or 72%, consider it a 5-star property.
The complex is indeed fit for emperors and empresses with its lavish Roman-themed interior, luxury boutiques, fine dining restaurants, and curated beverage experience. There is no shortage of entertainment options here, from the sprawling gaming floor and the action-packed sportsbook to regular shows that feature world-acclaimed headliners like Adele, Sting, and Rod Stewart.