The last decade has seen a significant shift in the way people wager as remote gambling became one of the largest and fastest-growing sectors of the industry based on gross gaming yield. The coronavirus outbreak and the wave of restrictions it brought about, further boosted the levels of online gambling participation worldwide.
For context, the size of the rapidly expanding remote gambling industry in the US stood at 9.5 billion dollars in 2021, a 9.2% increase from the previous year. This unprecedented growth has given rise to various concerns, with gambling opponents arguing that it might lead to higher rates of compulsive behaviors and addiction.
Online casinos and sportsbooks provide various responsible gambling tools to address these issues. The question is are they effective enough at reducing gambling-related harm? To provide an answer, SuperCasinoSites launched an online survey between October 20 and October 25. It involved 1699 respondents from the US who confirmed beforehand they have taken advantage of responsible gaming tools in the past six months. Here is how they responded to our questions.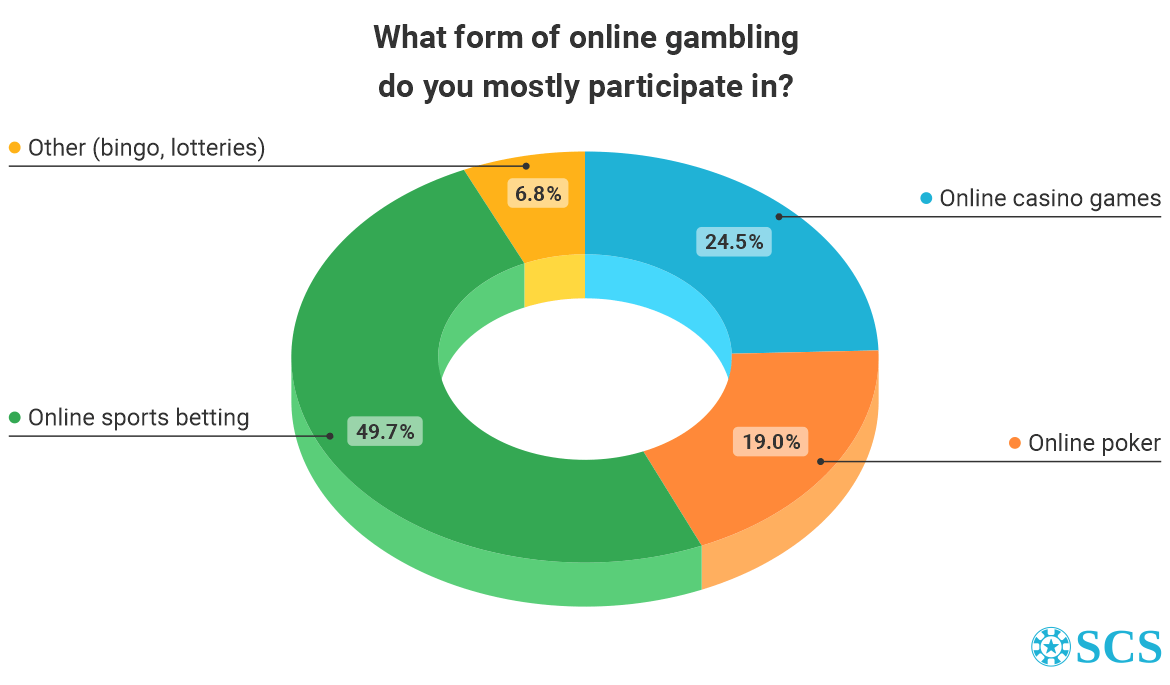 What form of online gambling do you mostly participate in?
Answer
People
Percentage
Online casino games
416
24.48%
Online poker
323
19.01%
Online sports betting
845
49.74%
Other (bingo, lotteries, etc.)
115
6.77%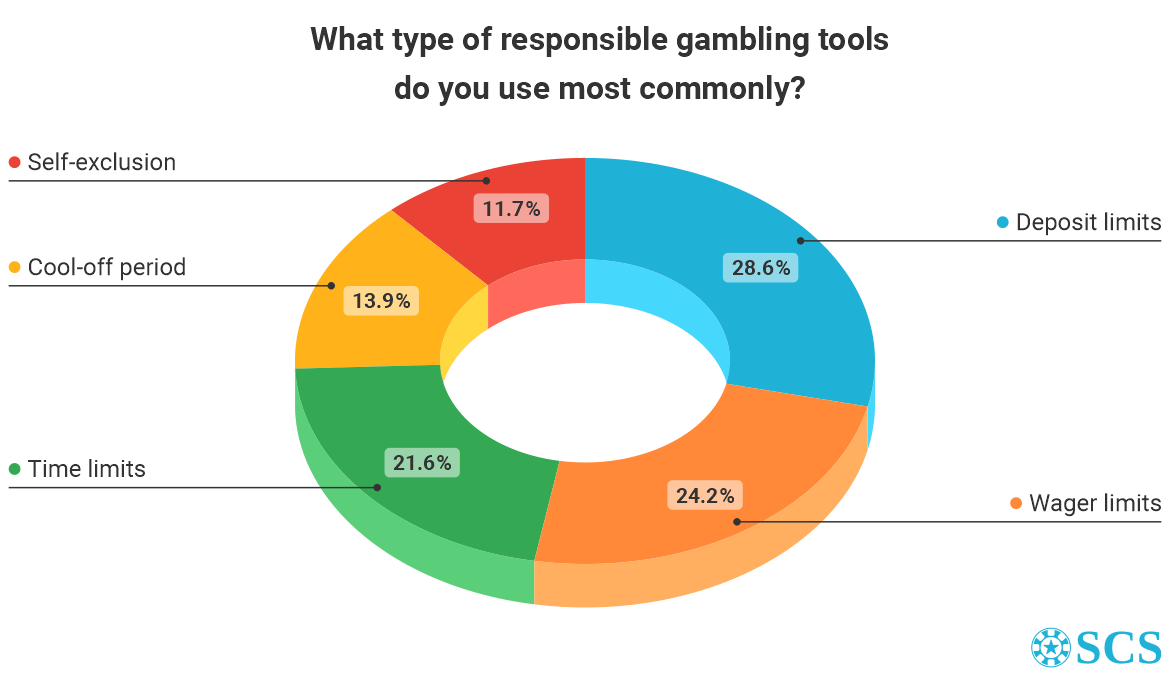 What type of responsible gambling tools do you use most commonly?
Answer
People
Percentage
Deposit limits
486
28.61%
Wager limits
411
24.19%
Time limits
367
21.60%
Cool-off period
237
13.95%
Self-exclusion
198
11.65%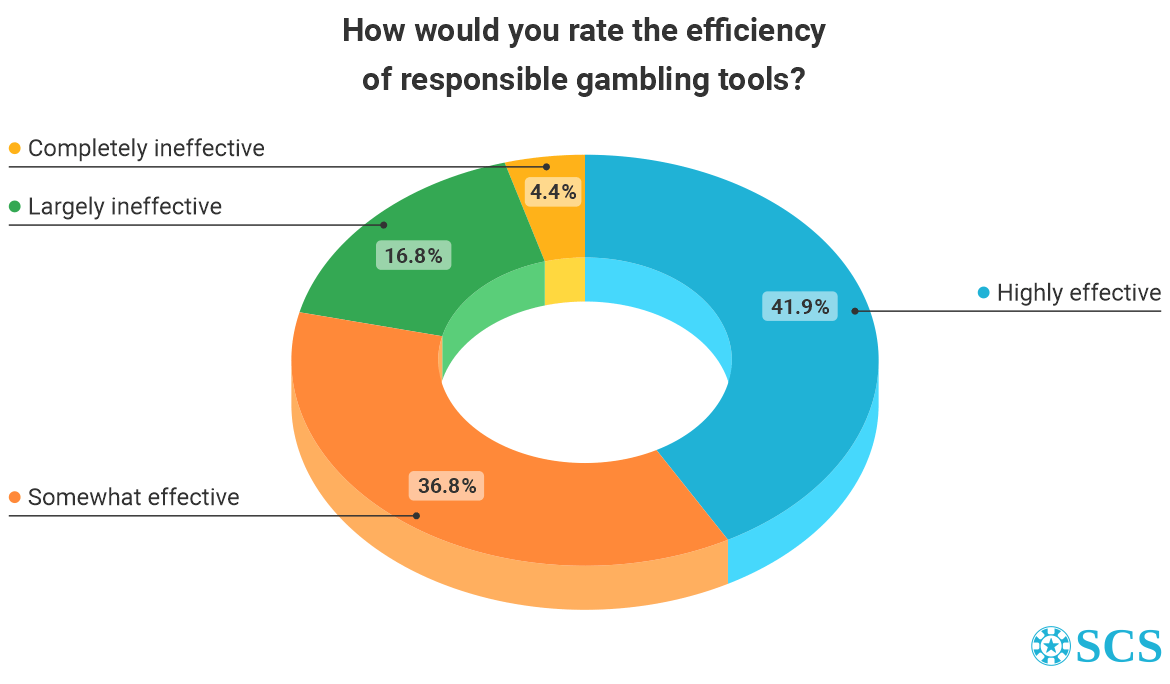 How would you rate the efficiency of responsible gambling tools?
Answer
People
Percentage
Highly effective
712
41.91%
Somewhat effective
626
36.85%
Largely ineffective
286
16.83%
Completely ineffective
75
4.41%
As we previously explained, the survey involves online gamblers from the US who confirmed they have implemented at least one responsible gaming tool within the last six months. All 1699 respondents have engaged in one or more common gambling activities like online casino games, sports betting, poker, and lotteries.
Responsible Gambling Tools Are More Commonly Used by Online Sports Bettors
The first thing we noticed when looking at the survey results is that sports betting is the most common form of online gambling that respondents participated in, over the past several months. The category includes wagers placed on traditional and fantasy sports and horse and greyhound races.
Nearly half of all surveyed individuals (49.7%) said they have wagered on sporting events within this period. This is no shocker considering the massive expansion the sector has seen since 2018 when sports wagering finally became legal at a federal level.
Bets on sports are now legally offered through retail and remote sportsbooks in thirty-one states plus the District of Columbia.
The survey results are consistent with data published by organizations like the National Council of Problem Gambling (NCPG). NCPG research suggests sports bettors are more likely to report recurrent risk behaviors, especially when placing wagers several times per week. Consequently, such punters are more likely to take advantage of the responsible gambling tools available to them.
Online casino games rank second in terms of participation rates (24.5%) among survey respondents who confirmed to have used responsible gambling tools in recent months. Very few states allow and regulate remote casino gaming at the time of the survey, with New Jersey, Pennsylvania, and Michigan serving as the most notable examples.
One possible explanation for the relatively high rates among the respondents is that legal prohibitions typically have little effect on online gambling participation. This partially results from the absence of legal repercussions for players gambling at remote offshore casinos who are generally not persecuted by state or federal authorities.
Spending Limits Are the Most Broadly Implemented Responsible Gambling Tool
In line with their commitment to responsible gambling, licensed operators offer various tools that enable customers to keep their betting activities in check. Some of these allow bettors to set personalized limits on the amount of money or time they spend gambling. Others enable them to voluntarily ban themselves from accessing their online gambling accounts, either temporarily or permanently.
Over 70% of the survey participants said personalized limits comprise the set of tools they most frequently use. Approximately 29% of them opted for imposing deposit limits on their daily, monthly, or weekly spending. Another 24% prefer to restrict the amount of money they put at stake, while the other 22% went for enforcing limits on the duration of their gaming sessions.
It is worth noting the use of personalized limits is recommended mostly as a preventative measure. It may prove less suitable for people who have started to exhibit compulsive gambling behaviors. Cooling off periods and self-exclusion might yield better results among players who have already developed a problematic relationship with gambling. These were the least commonly used tools among the online players we surveyed.
The two features appear similar at first glance but there is a difference between them. The cool-off option allows players to take shorter breaks from gambling, which typically range from one day to several weeks. Self-exclusion periods, on the other hand, have a minimum duration of half a year, while the maximum can be indefinite.
Over 3/4 of Survey Participants Think Responsible Gambling Tools Are Efficient
Research carried out by the American Gaming Association suggests the majority of Americans recognize the industry's commitment to social responsibility and are aware of one or more of the above-mentioned tools for responsible gambling. According to the Association, many gamblers in the country believe in the efficiency of tools like the deposit and wager limits we mentioned earlier. Our recently conducted survey shows remarkable consistency with these sentiments.
Over three-quarters of the respondents think these tools are efficient to some degree, with approximately 42% describing them as "highly effective" and another 37% labeling them "somewhat effective". Only less than 4.5% renounced them as altogether inefficient. The responses are largely based on personal experience since the survey encompasses online gamblers who confirmed to have taken advantage of said tools in the past months.
This leads us to the conclusion that responsible gaming resources offered by licensed operators effectively reduce online gambling harm at least to a certain extent. We recommend you use the tools available to you as a preventative measure to protect yourself and stay in control of your gambling activities.