Arcade culture may have diminished in size over the last decades, but it still remains strong in the US. Thousands of video arcade venues are strewn across the country, offering a taste of the retro gaming experience to fans young and old.
Being massive fans of the genre ourselves, at SuperCasinoSites, we decided to look up the best places to play classic arcade games in the US. We implemented Google Places API to obtain data for all arcade venues located in and around the most populous cities in the country. After analyzing the results, we compiled the following ranking of the 10 best video arcades in the US.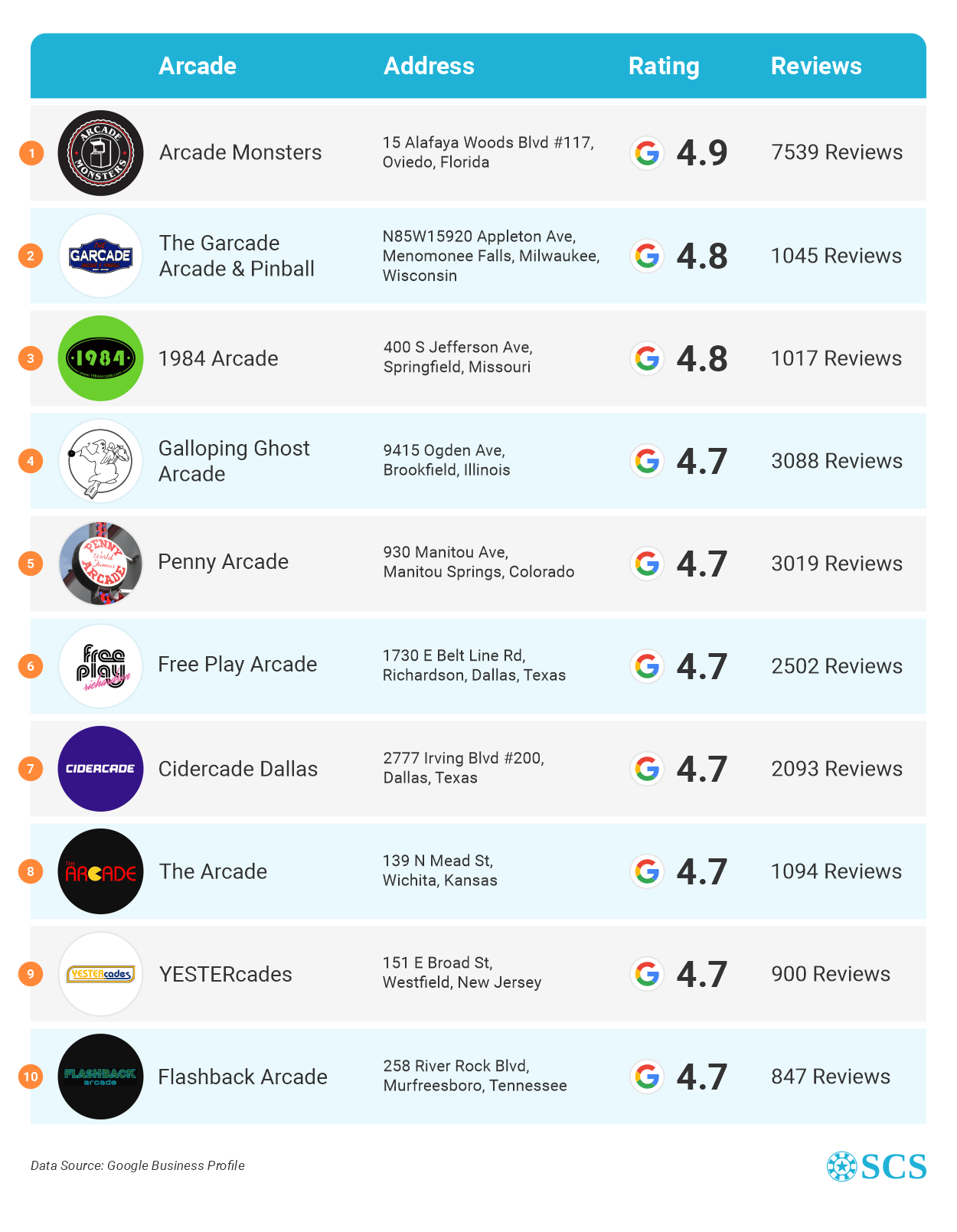 Methodology
We wanted our ranking to be as accurate as possible, so we located two hundred of the most populated cities in the country with the help of Google Places API. We then launched a Nearby Search in each city to find the video arcade venues located there. Finally, we filtered the results based on the number of reviews and user ratings. Our list includes only video arcades with a rating of 4.7 stars or higher based on a minimum of 800 reviews.
#1 – Arcade Monsters – Oviedo, Florida
Arcade Monsters is one of the largest video arcades in the Sunshine State, boasting more than 200 classic and modern arcade games spread across 7 rooms. Ideal for gamers of all ages, the place perfectly recreates the atmosphere of the 'golden arcade era' in the 80s. Gaming tournaments and cosplay contests with cash prizes are held regularly.

#2 – The Garcade Arcade & Pinball, Milwaukee, Wisconsin
What started as a hobby for owner Gar Nelson in 2012 went on to become one of the biggest and most iconic video arcades in Wisconsin. The club is now home to more than 170 vintage arcade and pinball machines. From classics like Donkey Kong and Pac-Man to pinball machines that play to the sounds of Metallica's greatest hits, there is no shortage of options for visitors who crave the vintage gaming experience.
#3 – 1984, Springfield, Missouri
Vintage gaming fans frequently describe this place as a time machine that takes you straight to the mid-1980s. These statements are anything but far-fetched as the venue features over 100 pinball machines and arcades, including all-time classics like Space Invaders, Centipede, Frogger, and Gauntlet. Customers can play to their heart's content in exchange for a nominal admission fee.

#4 – Galloping Ghost Arcade, Chicago, Illinois
Located just thirteen miles west of downtown Chicago, the Galloping Ghost Arcade offers a classic gaming experience like no other. As one of the largest video arcades in the country, the Galloping Ghost is home to a massive collection of more than 885 vintage games. Regular visitors have the option to purchase weekly, monthly, and yearly membership packages.

#5 – Manitou Springs Penny Arcade, Colorado
The Penny Arcade is a major attraction in Manitou Springs, one of Colorado's most charming and scenic resort cities. This is one of the few places on our list that still offers classic coin-op games, with prices starting at a single penny. The venue comprises five rooms where fans of the oldies can indulge in more than 400 games, including dozens of arcades, pinball and skeeball machines.
#6 – Free Play Arcade – Richardson, Dallas, Texas
Visitors have dubbed the Free Play Arcade a playground for adults, and rightfully so. The venue offers full-scale retro action, with more than 95 classic arcade and pinball games playable for a nominal entry fee. Some of the classics on the roster include Pac-Land, Dragon's Land, and Mortal Kombat. The Free Play chain also operates at several other locations across Texas like Denton, Arlington, and Fort Worth.

#7 – Cidercade Dallas, Dallas, Texas
Cidercade ranks among the best vintage gaming venues in the Dallas area. Visitors can indulge in more than 140 games while sipping one of the many delicious in-house ciders. There is a little something for all gaming styles and preferences as the venue offers classic arcades, pinballs, fighters, and shooters.

#8 – The Arcade, Wichita, Kansas
The name of this venue pretty much says it all. The Arcade takes you to a simpler time when skills and high scores were all that mattered if you were a keen gamer. The venue offers a well-balanced selection of over 75 arcades from the 80s and 90s, plus a decent collection of pinball machines playable for as little as fifty cents.
#9 – YESTERcades of Westfield, Westfield, New Jersey
With arcade classics like Pac-Man and Frogger, this retro gaming club captures the golden era of video games to a tee. Visitors praise the venue for its friendly and helpful staff, vintage atmosphere, well-maintained gaming machines and reasonable prices.

#10 – Flashback Arcade, Murfreesboro, Tennessee
Flashback Arcade opened its doors to customers in the summer of 2015, to the delight of arcade fans in the region looking for reasonably priced entertainment. The all-day-play venue features an amazing selection of stand-up and sit-down arcades, along with shooting and racing games. Each visitor receives a wristband upon paying a flat entry fee so that they can come and go as much as they please.